We grow minds here, too: Summers Corner Schools
04.13.2016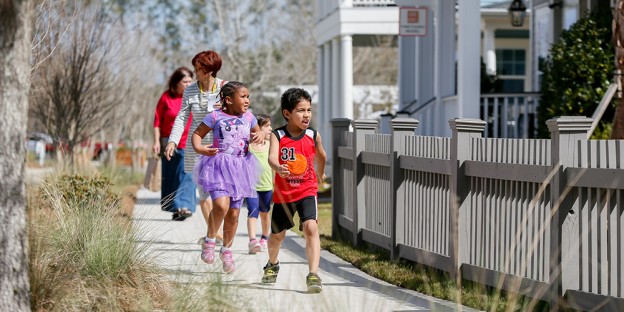 For parents of school-aged children, high-quality schools aren't just a "nice to have." They're a "need to have."
At Summers Corner, we know great neighborhood schools can be a major factor when choosing a home. Top-ranked schools tend to increase the value of the houses that surround them. And a short walk to school goes a long way in decision-making.
Summers Corner is part of Dorchester District Two—a top-rated school district that consistently receives an "excellent" ranking on the South Carolina Annual School District Report Card. And the high marks keep coming. In 2014, the district was named a "National District of Distinction"—honored as a model district for school leaders across the country. And in 2015, it was the only local district that received an "A" in federal ratings.
In August, Summers Corner will add to the esteemed list of schools in Dorchester District Two, with the completion of Sand Hill Elementary. Situated in the heart of the community, all K-5 students who live in Summers Corner will automatically qualify for registration. Construction of state-of-the-art facilities is well underway, and a new principal, Dr. Wally Baird, has been announced.
Dr. Baird is in his 19th year of education and has deep roots in the area—he is a graduate of Summerville High School and Charleston Southern University. He received his Master of Education degree in Administration from The Citadel, and received a Doctorate in Educational Leadership from Nova Southeastern University. A huge history buff, Dr. Baird will introduce curriculum that teaches students about the history of the area and its connection to nature—a perfect fit for Summers Corner, which is surrounded by heritage trees, shimmering water and the East Edisto Region—land teeming with Lowcountry history.
"I believe that the land around us can be a classroom unto itself. That's why I'm so excited to be part of a new school in an area that is so rich in natural history," says Dr. Baird.
The principal of the Rollings Middle School of the Arts, Dr. Kathy Sobolewski, agrees with that sentiment. The school will move to its new location in Summers Corner in 2017, and will share a single, state-of-the-art campus with Sand Hill Elementary. "We believe that a creative environment nurtures creative minds. Summers Corner will give us surroundings that allow students to expand their horizons and be inspired," she states. Until construction of the school is complete, students will attend its current location, just 10 minutes away.
Rollings Middle School of the Arts admits students in grades 6–8 on an audition-only basis, and features seven core arts areas: band, dance, piano, strings, theater, visual arts or vocal music. Students who do not attend the school will go to Gregg Middle School, another award-winning Dorchester District Two school just 8 minutes away.
Parents of high-school students can rest easy, too, knowing that their teenagers will attend Ashley Ridge High School—one of the best in the state, and just a 5-minute drive from Summers Corner. The school features a challenging academic curriculum and 4A athletics, plus an extensive list of clubs and activities.
Of course, Summers Corner believes every resident should have opportunities to learn and grow. So the school campus will also include the 1,000 seat Summers Corner Performing Arts Center—which will serve as the cultural heart of the community and provide a venue for live musical and theatrical performances for audiences around the region. It all makes Summers Corner a very smart choice to call home.
Offered by a select group of builders—Dan Ryan Builders, Eastwood Homes, FrontDoor Communities and Sabal Homes—the thoughtfully crafted homes of Summers Corner will range in size from 1,300 to 3,600 square feet and start in the high $200,000s to $400,000s.
Move in before school starts—eleven homes are under construction and ready for your personal touches. And six models are open daily. Start your tour at Corner House Café + Information. Or view homes for sale here in Summerville, SC online.