Using What You Grow
08.29.2016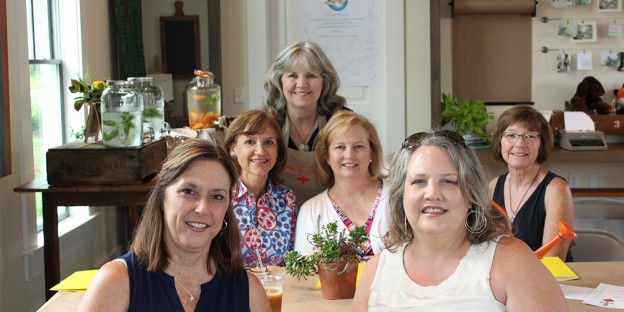 This past Sunday during our monthly Farmers' Market, a small group of garden-minded folks tucked into the Corner House to learn tips and tricks for putting garden harvests to work. Clemson Extension Master Gardener Laura Williams offered a wealth of information to guests, including simple preservation techniques, food and herb pairings, culinary crafts, and easy recipes. If you're looking for ways to use your fresh, homegrown veggies and herbs, we've captured a few ideas for you right here!
Crafting flavored vinegars
Flavored vinegars are an easy to way to add a layer of pizzazz to your favorite dishes. They're easy and safe to make at home, too, making them a perfect way to utilize your homegrown harvest. Here's how:
Sterilize a clean glass jar or bottle by immersing in boiling water for 10 minutes. Allow 3-4 sprigs of your favorite herb per pint (2 cups) of vinegar. Very fresh herbs are best (picked before blossoming), but 2 tablespoons of dried herbs, 1 to 3 cups of fruits or vegetables, or the peel of one lemon or orange per pint will also work. It takes at least 10 days for most flavors to develop, and three to four weeks for the best flavor to emerge. When flavors are to your liking, use your homemade vinegar as a marinade for meats and fish, as dressings for salads or pasta, on vegetables such as fresh tomatoes or cucumbers, or whip into a mayo for chicken or seafood salad.
Read Clemson Extension's full instructions, including important sanitizing steps, storage methods, and tips for coaxing the richest flavors from your herbs, fruits and vegetables.
Drying homegrown herbs
The easiest method for stretching your fresh herbs through the year is drying them. According to Clemson Extension, the best time to harvest is just before the flowers first open. Dehydrators are a great method for drying herbs fast, but air drying herbs like sage, thyme summer savory and parsley works just as well. Tie them into small bundles, and store them inside for the best color and flavor. More tender herbs such as basil, tarragon, lemon balm, and mints will mold if not dried quickly, so Clemson Extension recommends hanging the bundles inside paper bags with holes to allow air to circulate. Oven drying and microwave drying are also great options! Read Clemson Extension's full instructions for drying herbs, seeds, and nuts.
Homemade potpourri or sachet
Sachets of herbs like rosemary, lavender and mint are wonderful tossed into drawers, gym bags, or pillowcases. They also make great gifts. Here's how to make them yourself:
Cut herbs early in the day. Hang to dry or use one of these drying methods. Choose one of the combos below (or one of your own making), and lightly grind to release the fragrance. Tuck into a small cloth bag with a semi-porous weave (something that will let scents waft out).
Herb Garden Blend
1 C thyme
1 C rosemary
1/2 C lavender
1 C mint
1/4 C tansy
1/4 C clove
1/2 oz. orris root
Sleep potion
3 C spearmint
3 C rose leaves
2 C cloves
1 oz orris root
"Manly" scent
2 C lemon balm
1 C thyme
1 C nutmeg
1/2 oz orris root
Stay tuned for more events with the Clemson Extension Master Gardeners. In the meantime, feel free to drop by their office right here in Summers Corner with gardening questions and soil samples! While you're here check out our move-in ready homes, tour our models, and grab lunch at Corner House cafe.