Third Thursday: A Summerville tradition
08.04.2017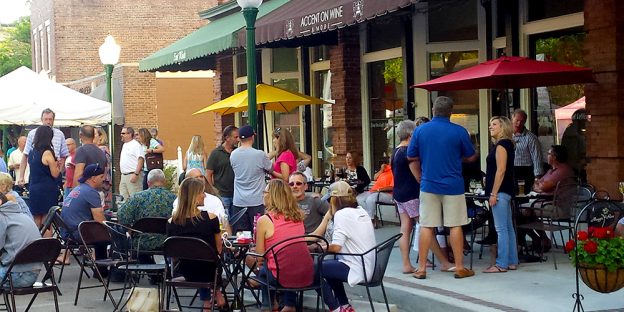 We like to say historic Downtown Summerville is the hidden gem of the Lowcountry. It's a place where time slows down a little, where you can shop and dine at yummy local restaurants and cafes, take in a show, and experience all the joys of small town living. The center of it all is just 15 minutes from Summers Corner, and one of our favorite ways to take it all in is during Third Thursday.
A monthly celebration of community and local life, Third Thursday is quintessential Summerville. It's the perfect time to catch up with friends, old and new. "Little Main" is closed off for the block party event, and local vendors set up shop. The region's best musicians provide the evening's soundtrack. The scent of freshly popped kettle corn fills the air.
The evening event is a great way to spend time getting acquainted with the charming and historic area of downtown Summerville. Take in the scene while enjoying a glass of wine or craft beer at Accent On Wine's patio seating. Shop handmade soaps, eclectic and unique home décor, jewelry, and gifts from Etc. Sip a cup of coffee and relish a delicious pastry from Cuppa Manna. Shop the latest fashion trends from at local boutiques Fly, East Winds, Maggie Rose, or Southern Belle Époque to name a few. Looking for all things local? Four Green Fields will be your go-to stop. Kiddos in tow? No worries, this family friendly event will be sure to keep them entertained with the vintage car show, kid friendly activities, live music, and more.
Be sure to make Third Thursday one of your family rituals. Each month features a different theme and vendor selection.