The crafty story behind the brew
05.27.2016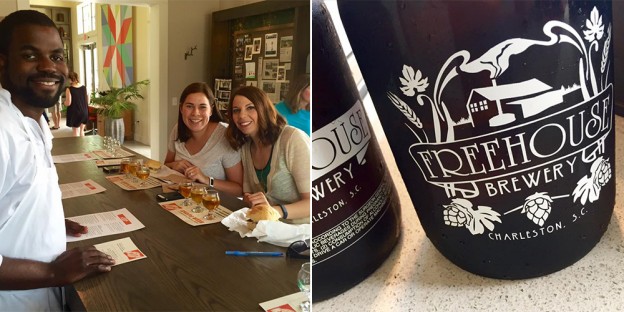 Last week we celebrated American Craft Beer Week with an afternoon of Freehouse Brewery beer flights.  Brews were paired with complimenting sandwiches and sides, and the whole experience was topped off with a delicious collaboration between Freehouse, Cirsea, and the Corner House culinary team – Bridgetown Stout Ice Cream! It was indeed a tasty celebration.
Arthur, founder of Freehouse Brewery, was on hand to "host" the beer flights and share a little information about how the beers are made and what makes them special. He also shared a bit about North Charleston-based Freehouse, the only 100% organic brewery in the state. Here's what we learned:
Free to choose a brew. Freehouse Brewery is so named because of Arthur's experience with pubs in the UK. In the 18th century it became trendy for pubs to become tied to breweries. A free house, on the other hand, is free to serve any beer it chooses!
Truly organic. To Arthur, "free" means something more: free to serve local, organic and flavorful beers. It also means free of chemicals, pesticides and preservatives.  You'll find this true of every beer Freehouse Brewery produces.
Drop on by. Freehouse Brewery embraces "come one, come all & all our welcome" mantras. The taproom is open Tuesday-Friday 3 – 8 pm and 1-8 pm on Saturday. Check out their Facebook page for the food truck schedule!
Bravo! Freehouse is now an award winning brewery. Their Green Door IPA recently received the silver medal from the The Los Angeles International Commercial Beer Competition.
You can taste some the 100% organic brews here at Corner House Café – we have Ashley Farmhouse Ale, Green Door IPA & Folly's Pride on tap. Also, be sure to ask about the Bridgetown Stout Ice Cream. We are ready to serve you!