The best summer salad dressing
07.10.2016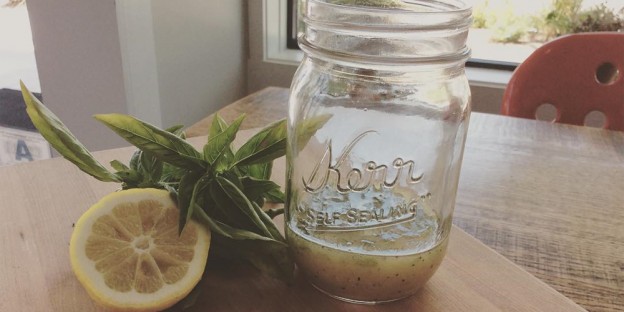 In June the exceedingly-talented Clemson Extension Master Gardeners installed a delightful kitchen garden, and we couldn't love it more! The new installation not only creates a lovely scene in the garden – as well as a truly decadent smell -we're also able to use the freshest of herbs right here at Corner House Café! One of our favorite uses for fresh herbs: homemade salad dressing.
The beauty of making your own salad dressing is that you know exactly what's going into it – always a bonus –  and the freshness is unbeatable.
Here's a favorite. Try it for yourself!
2 Tbsp fresh basil, chopped or chiffonaded
1 Tbsp lemon juice
1 Tbsp apple cider vinegar
1 Tbsp agave or honey
1 Tbsp Dijon mustard
Salt & pepper to tatse, about 1/2 tsp each
Up to ¼ cup of olive or canola oil
*Recipe yields about 1/2 cup of dressing
Add the liquids to the chopped basil and slowly whisk in the oil until you reach the desired consistency.  Voila! The perfect summer dressing.
Interested in learning more about our community in the garden? View homes for sale here in Summerville, SC online.