Journey down The Sweet Tea Trail
12.11.2014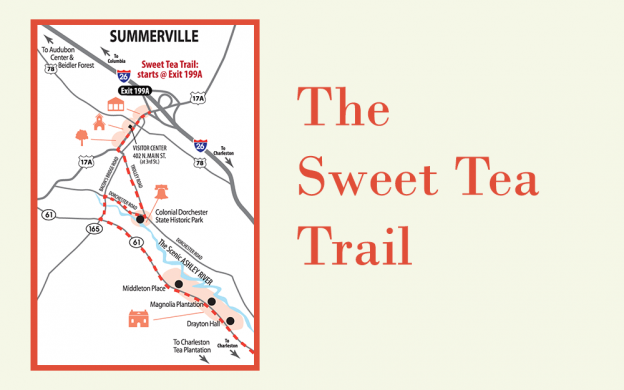 One of the best parts of living in Summers Corner is being part of Summerville. A small town rich in historic and natural treasures, there's truly something for everything to enjoy – from gardens and plantations to shopping and nightlife. Tourism Director Tina Zimmerman and the team at the Summerville Visitor's Center have created a way for visitors and residents to truly experience the whole package. She shares an overview of The Sweet Tea Trail below.
The Sweet Tea Trail, so named because of Summerville's title as The Birthplace of Sweet Tea, is a guide designed to help visitors and locals alike explore all the town has to offer. It's a path through town that incorporates the history that makes Summerville unique with modern touches of fine Southern dining and shopping. There's plenty of opportunity to wonder at the famous flora and fauna of Summerville, too. This is the Flowertown in the Pines, after all!
The Sweet Tea Trail is broken into 5 districts: Business, Historic, Garden, Colonial, and Plantation. Though there's no official beginning, a good place to get your bearings is at the I-26 interchange at exit 199, and from there start your journey through the five districts of the town.
Azalea Square, the heart of the Business District, offers modern shopping amenities and restaurants, and a selection of hotels for out-of-towners. Follow the trail to charming and historic downtown Summerville, the center of which is Hutchinson Square. Relax on a bench under a canopy of oaks, or visit one of the many local businesses for lunch, a cup of joe, or a nice cold glass of sweet tea.
From there, the trail winds into the Garden District. Storied Azalea Park puts on a stunning show of flowers every spring, but the landscaped pathways and ponds make for a great place for a walk any time of year. And don't miss the self-guided walking tour of fine historic Summerville homes.
The trail continues into Colonial Dorchester State Park. The park is a beacon for history buffs – archaeologists are currently unearthing a colonial settlement, helping to paint a clearer picture of life in colonial South Carolina.
The Sweet Tea Trail finishes with a flourish in the scenic Plantation District, where world-class attractions charm thousands of guests every year: Middleton Place, Magnolia Gardens and Drayton Hall Plantation. Each is a fascinating look into 18th century southern Plantation life. The gardens at each are not to be missed!
For more information, visit visitsummerville.com, and swing by the visitor's center on your way through town. We'd love to say Hi!
//Tina Zimmerman, Summerville Tourism Director