Stroll, hike or bike: Summers Corner's extensive trail system
10.05.2015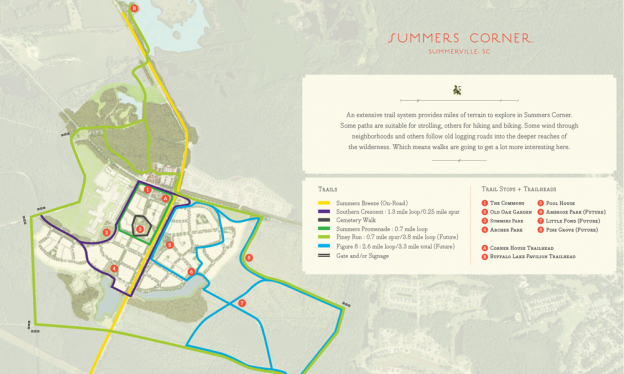 It's no exaggeration to say that the signature, defining piece of Summers Corner is going to be the landscape. And lucky for us, much of that landscape is already here. Summers Corner is tucked into a particularly stunning piece of the South Carolina Lowcountry. Flanked by fresh water lakes teeming with wildlife and pine forests rich in flora and fauna, it's not only beautiful, but flush with opportunities to live an active, healthy life.
By now, many have gotten to experience Summers Corners' very first amenity – Buffalo Lake. Furnished with a fishing dock, kayak and canoe launch, deep benches and welcoming fire pits, It's a place to relax and refresh, play and pause, unplug from technology and plug-in to family and friends.
We're also building in an extensive trail system that provides miles of terrain to explore in Summers Corner. Some paths are suitable for strolling, others for hiking and biking. Some wind through neighborhoods and others follow old logging roads into the deeper reaches of the wilderness.
The trails lengths span from quarter mile strolls to 3.8 mile loops. Along the way you'll encounter neighborhood parks like Archer and Summers, Old Oak Garden, and the Pool House. You can also plan your journey to take you by The Commons, where you can stop at the Corner House for coffee, a cold drink, or a full lunch. You can also stop and chat about gardening tips and tricks with the Master Gardeners at the Homestead.
At Summers Corner, we're expanding the idea of home to include garden, park and walking path. Here, nature is on display. And nature, in all of its forms, will make the experience of home much richer.
Download a high resolution pdf of the Summers Corner Trail Map