A Recipe for a Prosperous New Year
12.30.2014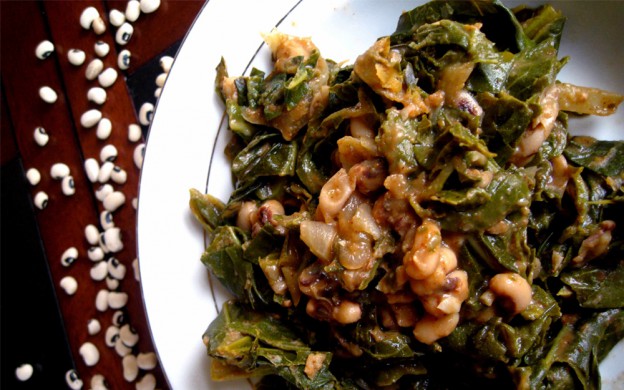 According to Southern tradition, eating black-eyed peas on New Year's Day brings prosperity, luck, and money to the year ahead. There are a number of tales explaining the superstition –  some sources claim it was started during the civil war when Union troops ransacked Confederate stores and left only the peas. They survived the winter, and considered the peas a sign of luck. Others claim it was all the slaves had to celebrate with on the first day of January 1863, the day the Emancipation Proclamation was signed. Another superstition goes as far back as ancient Egypt when people believed eating a meager food like black-eyed peas showed humility before the gods.  You'll also find southerners insisting that the peas symbolize wealth because they look like coins. And since they swell when they cook, they also represent prosperity. The accompanying collard greens symbolize money.
It's one of those hard-to-trace superstitions that has become a ubiquitous part of Southern tradition. Whether the meal brings luck, prosperity and fortune, we can't really say. But we can report it's a delicious and hearty meal to start the New Year. We've rounded up a spicy version that's quick and easy, and just might be the key to a successful new year!
Spicy Collard Greens & Black Eyed Peas
3 bunches of collards, stems removed and chopped into ribbons
2 15 oz cans black eyed peas (or 1.5 cups of  dried peas, cooked)
1 T olive oil
1 onion, sliced thinly
4 cloves of garlic
1/2 tsp red pepper flakes
1/2 tsp ground cumin
2 tsp chili powder
2 tsp smoked sweet paprika
1/4 tsp salt
1/3 cup wine (whichever you have on hand or prefer)
1/2 cup water or vegetable broth
vinegar
In a large, heavy-bottomed pot or deep frying pan, heat the olive oil over medium heat. Add the onions and saute until translucent. Add the garlic and pepper and all of the herbs and spices except the salt. Stirring frequently, cook the spices in the oil for several minutes.  Add the collard greens and saute, coating the greens thoroughly in the spices and oil.
Saute for 5 minutes or until the greens begin to wilt. Add all of the remaining ingredients and cover. Turn heat to medium-low and simmer for 30 minutes or until the greens are tender. Stir regularly to make sure ingredients don't stick to the bottom of the pan.
Sprinkle with vinegar when serving.
Photo and recipe courtesy of BrannyBoilsOver.com.