Bits and Bites: Pumpkin Muffins
10.21.2014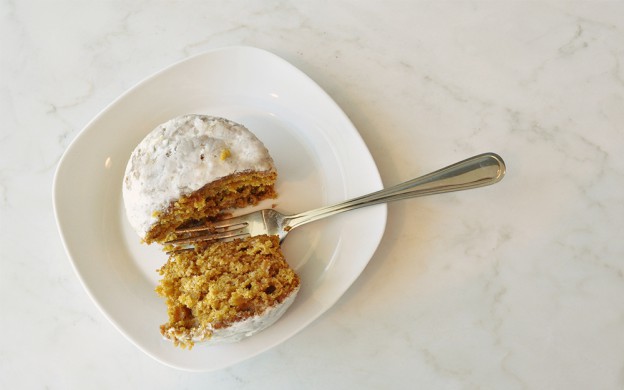 Pumpkin spice – it's the sweet taste that signals the official start of fall.  This yummy Pumpkin Muffin recipe courtesy of Coastal Coffee Roasters' baker Kristin is perfect as a quick, sweet  breakfast or an after-school autumn snack.  Or serve them up warm with a fresh pot of coastal blend for dessert!
CCR Pumpkin Muffins
All purpose flour – 1 3/4 cups
Sugar – 1 cup
Brown sugar – 1 1/2 cup
Baking soda – 1 tsp
Salt – 1/2 tsp
Cloves – 1/4 tsp
Cinnamon – 2 tsp
Nutmeg – 1/4 tsp
Eggs – 2
Pumpkin puree – 15 oz.
Canola oil, vegetable oil or coconut oil – 1/2 cup
Vanilla – 1 tsp
Sugar topping (optional if using glaze)
Sugar – 1/8 cup
Pinch of cinnamon
Glaze
Powdered sugar – 1 cup
Pinch of cinnamon
Heavy cream – 3-4 tbs
Directions
Preheat the oven to 375F
Line a 12 capacity muffin tin with muffin liners
Make the topping (if using) 
Mix the 1/8 cup sugar with the cinnamon and set aside
Make the muffins
Sift all the dry ingredients into a large bowl. This includes the sugar.
In a separate bowl, mix all the wet ingredients.
Add the wet ingredients to the dry.
Mix until just combined and there are no more dry flour bits. Do not over mix.
Scoop into liners about 3/4 full. Sprinkle the tops with the cinnamon sugar mixture (if using).
Bake for 20-22 minutes
Make the glaze
Mix the powdered sugar, cinnamon and heavy cream to a medium thick consistency. Dip the cooled muffins into the glaze, allowing excess to drip off. Or drizzle the glaze over top of the muffins.
By now your home is filled with the mouth-watering aroma of sweet pumpkin spice. Only one thing left to do – dig in!