Proof southern hospitality is thriving at Summers Corner (plus some holiday décor inspiration!)
12.17.2017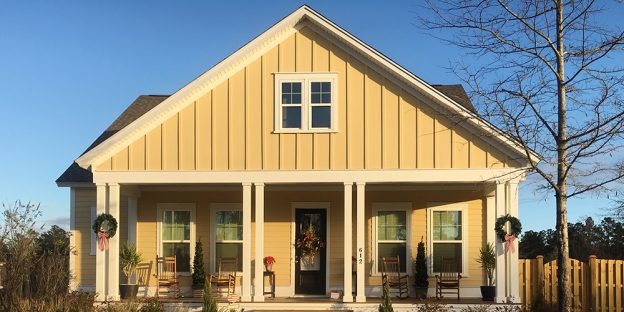 In the late 1980s, some smart folks set out to study how people perceive homes with and without holiday décor. What they found probably won't surprise you: people interpret Christmas decorations as a cue the inhabitants are more friendly and more socialable.
If that's the case, all evidence points to Summers Corner residents being among the most friendly you'll ever meet! Driving through Summers Corner, you'll be delighted by displays of traditional white lights and colored ones, sprinkles of holly and evergreen everywhere you look, kid-friendly Santas and reindeer, and vibrant light displays. We've been documenting the holiday cheer on Instagram and Facebook, and we've outlined some of our favorite trends below. Happy Holidays, y'all!
Evergreen, ever-popular. Fresh evergreen is a trademark of the holidays, the pine scent instantly reminding us of winters past. Our homeowners have it in all forms – in wreaths and garlands, with and without pine cones, wrapped with lights or ribbons, tucked into window boxes or gingerly bundled up against spindles and columns. Forever a classic.
Be bold. Red and green are go-tos for the holidays, but who says blue and black can't add a festive touch? We spotted black and white buffalo check ribbon wrapped with evergreen garland one on home, and another with black and white polka dotted ribbon curled over a front doorl. It's a quirky, contemporary touch that we find oh-so-charming.
Work with your architecture. One of our homeowners wrapped a white column with a red scarf, added some charcoal eyes and buttons, and a "corn-cob" nose. See where this is going? This snowman will stick around even through our 60 degree winters!
Cozy textiles. You'll find all manner of seating across Summers Corner's deep, wide porches all year long. As temps drop, homeowners are adding fluffy blankets and holiday-themed pillows to their swing beds and rockers. Even when not snuggled around bodies, they kick the cozy factor up a notch and have us tempted to sit a spell with a warm cup of tea!
Simplicity. Sometimes the only statement you need to make is a simple, well-loved wreath.
Happy Holidays from our friendly, sociable community!