Planting seeds & growing character with Audubon South Carolina
05.17.2018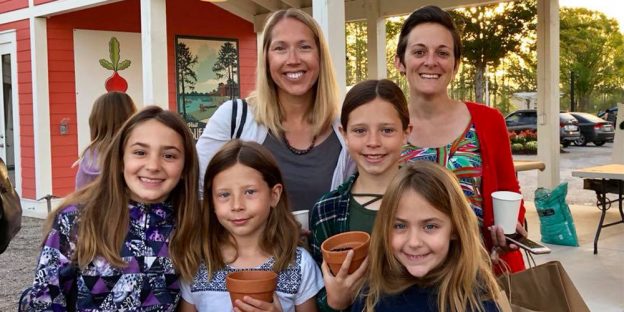 Jennifer McCarthey Tyrell is the Bird Friendly Communities Coordinator for Audubon South Carolina. With a BS from Coastal Carolina and a Masters from the College of Charleston, Jen spreads the word about the importance of bird-friendly communities.
Summers Corner, home to Sand Hill Elementary School, is one of only four designated Climate Resilient and Bird Friendly communities in South Carolina. We were  happy to partner with Sand Hill Elementary School and Audubon for a class on native plants and the powerful role they play for birds, pollinators and our environment.
It was still dark when I left my house. The car was loaded with organic potting soil and a mason jar with seeds that had been soaking overnight. The biological processes of botanical life and creation were quietly stirring underneath the seed coats of 150 baby Asclepias tuberosa. Arriving at Summers Corner, the air was chilly and the sun was just starting to paint the sky in pink and purple tones. My new friends, Sandra Brantley and Lisa Bailey-Peters, were busy at work prepping the breakfast spread and potting tables for the Magnificent Moms group scheduled to arrive shortly.
This early morning program required me to leave the house at 5:30 am, which seems like an early morning, but for someone who bands birds, you have to get up before those early birds do if you want to be successful. I was a little unsure about what kind of turn out I'd have when asked to do a program at that hour, but I decided to go along with it as I'm usually up long before 6:30 am anyway. It's hard to get out of bed that early, but waking up to witness sunrise outdoors is a purely magical and invigorating way to start your day. Before most humans are starting their routine and commutes, our communities exist in a peaceful quiet Zen state at dawn, where birds have been woken by first light and begin the soft chirpings of the dawn chorus, the nocturnal foxes, raccoons, and deer are finishing their night's activities and sneaking off into the shadows unaware of your presence, and the stillness that hangs in the air glowing with the purple and pink tones of the coming sun brings your mind to a perfect balance and state to prepare yourself for the day ahead.
Sure enough, starting at 6:15 moms and their kids started shuffling in, a little sleepy-eyed and quiet, but by the time I started, we had a group of 40 or so eager, awake, and engaged moms and children ready to learn! With the rising sun we started our lesson. We began discussing how native plants support insects; they've lived together for thousands of years coevolving in a symbiotic fashion that feeds over 90% of land bird species that depend on insects for raising their young. Just for perspective, a nest of chickadees can consume 9000 caterpillars or more in the two and a half weeks they take to hatch and leave the next.
Why use Native Plants?
Native plants support birds through insects as well as nectar, seeds, and berries that make them an ideal way to support bird populations in a landscape that is becoming more and more altered by our presence and resource needs.
In landscaping, native plants creates a high-quality food providing habitat as well as a low maintenance landscape that will save money and resources in the long run since these plants are adapted to our crazy climate here in South Carolina.
Native plants can turn our urban and suburban environments back into productive and eco-friendly habitat by reducing non-native ornamental species and turf grass in our landscapes.
How we grow Seeds of Character
By caring enough to provide food through the plants we're planting, we're exhibiting Kindness, caring for the species that will benefit like the Monarch Butterfly, The Queen Butterfly, The Grey Hairstreak, and The Ruby-throated Hummingbird.
Diligence is required for the close monitoring of the young seeds as they germinate and providing adequate sun and water for them to thrive.
Patience is required as these seeds take days or weeks to germinate and then grow into mature plants.
Joyfulness is experienced when we see the fruits of our labor being utilized and enjoyed by the birds and butterflies who use this native plant for food and shelter.
Together the moms and children gathered around the potting tables eagerly but patiently awaiting instruction. Through guidance they all filled their pots with appropriate organic soil that would bring to life the Orange Milkweed, or Butterfly Weed seeds that were prepared for germination before. With dirty hands and wide smiles the kids and moms departed with the rising sun to go to school for the day and take on the role of native plant care takers and stewards of their own bird friendly community. With proper care these plants could grow and provide nectar for hummingbirds on their migration and host three different species of butterfly caterpillars. Each seed represents hope for a future with more native flora and fauna and a healthier bird friendly and climate resilient community.
/Jennifer McCarthey Tyrrell
Bird Friendly Communities Coordinator
Audubon South Carolina