Outdoors around Summers Corner: Ashley River Blue Trails
05.10.2017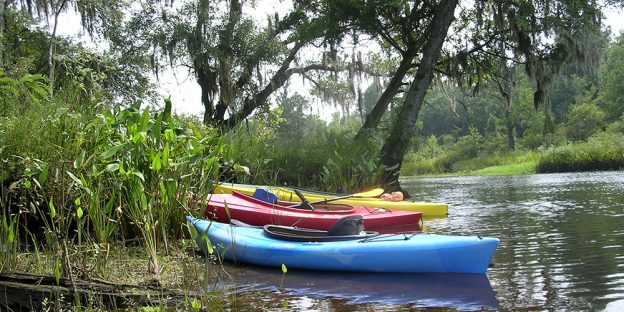 One of the defining features of the Lowcountry is the abundant waterways, lakes and rivers that shape the landscape. Buffalo Lake, one of Summers Corner's most striking landmarks, offers 94 freshwater acres for residents to catch a few fish, spend an easy morning paddling and admiring the wildlife, or simply enjoy some quiet time by the water's edge. But Summers Corner's location also offers plentiful opportunities for getting on other waterways – the Ashley River being one of the most spectacular.
The blackwater tidal river flows 30 miles from its headwaters in Great Cypress Swamp to the Atlantic Ocean at the Charleston Harbor. See the North-fork map. Then plan a weekend out on the river. Here's how:
Hike, bike, picnic
Just minutes from Summers Corner at the intersection of Beech Hill and Bacon's Bridge Roads, Rosebrock Park stretches 76 acres along the banks Ashley River. Here, enjoy over two miles of easy hiking and biking routes amidst live oaks and abundant wildlife. Well-marked paths, restrooms, and picnic areas make Rosebrock Park a great spot for whole family to enjoy some water-side relaxation and fun.
Paddle, boat, and bring home a bass
Load up the boat, kayak or canoe and head to Jessen Boat Landing to experience the Ashley River from the water. In addition to a public boat landing and fishing pier, Jessen Boat Landing has a walking trail and boardwalk area overlooking the picturesque Ashley River, as well as a picnic shelter with tables and an oyster shell recycling site.
A look back in time
We would be remiss not to mention the river's rich history, as three iconic plantations dot its shores.
Drayton Hall, American's oldest unrestored plantation house, offers house tours and interactive programs, as well as marsh and river walks. The property is also home to one of the oldest documented African-American cemeteries in the nation. Immerse yourself in the property's immense history timeless beauty.
Magnolia Plantation is a 17th-century estate featuring a incredible plantation house, gardens, and antebellum cabins, as well as a nature train and boat and wildlife observation tour. Perfect for history buffs and nature lovers alike.
Middleton Place allows visitors to step back in time to catch a glimpse of life on an 18th-century rice plantation. African American Focus Tours, plantation stableyards, carriage tours and horseback riding are among the offerings, but the on-site restaurant and endless gardens should also be on your don't-miss list. Make a day of it.
The natural landscape around Summers Corner is one of its greatest perks. This weekend, get out and enjoy the fabulous weather, spend some time on – or by – the water, and soak up all that the Lowcountry has to offer!
For more information about projects and events from the Dorchester County Parks and Recreation department (including the highly anticipated Ashley River Park), check out Friends of Dorchester County Parks.
Join us at Summers Corner. See our new homes here in Summerville, SC, many available for quick move-in. Six models are open daily. 
Thanks to Lord Berkeley Conservation Trust for the above photo!