Our Earth Day Takeaways
04.26.2016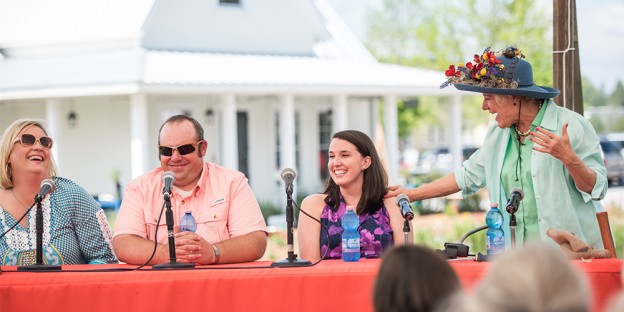 We celebrated Earth Day in the garden this year, hosting special programming by the Clemson Extension Master Gardeners and welcoming the fabulous folks from SCETV's Making it Grow for a unique "Unplugged" panel discussion.
Having so much knowledge "in the house" proved beneficial to all of us, no matter our gardening know how, or lack thereof.
Here are some of the top takeaways we got from the crew:
Dial back the tidy! Our master gardeners presented two sessions on creating a pollinator garden. Pollinators – bees, birds and others – prefer an environment that feels natural, versus well manicured. Plenty of audience members grinned sheepishly, admitting they get a bit too zealous about taming the tangle in their yards.
Use tools wisely: Amanda McNulty, beloved hostess of Making it Grow, had the crowd in stitches numerous times, thanks to her warm, natural humor. She also had us taking plenty of notes, including tips about the top tools for gardeners. Amanda wields a dry wall saw against weeds in the garden. She also uses a maddox tool to cut through sod and compressed soil (which she demonstrated while seated on the ground, because that's easier on the back than stooping). And finally, she advocated for a good pair of hand pruners, kept sharp. "After all, if you were having surgery, you'd want the doctor to use clean, sharp tools. The same is true for our plants!" she said.
Keep it real: Just because a plant is available at your local garden center, that doesn't mean you should buy it. Forcing non-native or plants that aren't well adapted into your landscape can cause you to work harder than you should to keep it alive. Know your zones, and plant accordingly. Finally, soil testing is key to success, as one yard can exhibit a range of types. Pro Tip: Our Master Gardeners at Summers Corner can collect soil samples on site, once the results are back from the lab, the MGs can help interpret the results.
If you missed the Unplugged panel, never fear: Making it Grow will air a special segment about Summers Corner later this summer. So stay tuned.
And hopefully, we'll be successful getting Amanda and crew back in our garden sometime soon!
Interested in learning more about our community in the garden? Start your tour at Corner House Café + Information. Or view homes for sale here in Summerville, SC online.