On autumn and gratitude
11.22.2016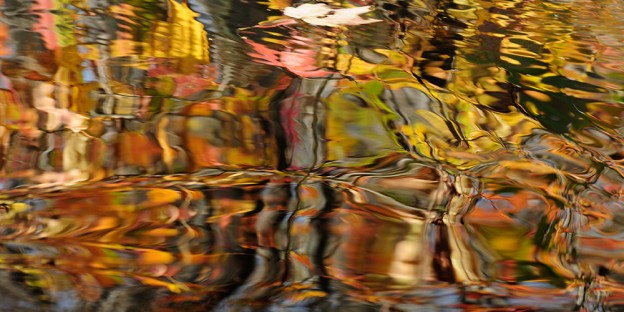 To everything there is a season. Spring brings the inevitable sense of renewal and hope, while summer makes us playful and greedy to make the most of every minute in the sun. Autumn brings a sense of gratitude that isn't just about gathering at the Thanksgiving table. There is something in the air that signals change within us. We're a little more reflective and the shortening days shine a different light on our world.
Mother Nature has challenged us over the past year, throwing everything in her inventory at us. From drought that left the grasses parched and stiff, to torrential rain and raging floods; from oppressive heat that left us breathless, to gusting winds that brought down mighty oaks, she has tested our will to live in coastal South Carolina.  We proved ourselves up to her challenge.
Now, at last, we are rewarded for our perseverance.  The air is crisper, and sunlight filters through tinges of yellow and orange, coating the changing leaves of dogwoods and sycamores with a warm, honeyed glow. Fall has finally arrived, and for those for whom the outdoors is a sanctuary, it delivers the invitation we have hoped to see delivered.
It is early morning when I watch a canoe slide into the chilly water of the lake. I hear the soft laughter of a little girl who looks wide-eyed to her father as he steadies the boat. Seat cushions are adjusted and life jacket buckles checked and rechecked. It's a rocky start for the two adventurers, and the canoe wobbles a bit as small hands struggle with the wooden paddle. Water splashes as the paddle crashes against the side of the boat. Easy does it, her father gently cautions.
I'm immediately flooded with memories of similar scenes I have lived, and that I treasure. I'm transported to a small pond in the woods of my childhood, to a silver canoe whose shine has been dulled by miles of rivers and lakes, and to an infinitely patient father whose lessons would help me maneuver through water that would not always be smooth.
I look around me at the line of trees in the distance. I've been blessed to grow up in the outdoors, and to know it as a sanctuary in every sense of the word. I'm forever indebted to my parents for the gift of  every moment spent walking fields and forests, sitting beside a campfire on starlit nights, and gliding silently through the lily-padded carpets of blackwater swamps.
I do not know the little girl or her father, but I do know that on another fall day in the years that lie ahead, she will remember the lessons of this day, and amber light reflected on a windswept lake. Perhaps she will feel the change in the air, and look with gratitude on a leaf-strewn path before her. I know that today she has received a gift of time and appreciation for the outdoors that will serve her well, in ways she cannot even begin to imagine. I am thankful.
/ Susan Frampton