Nothing cookie cutter about it
03.09.2016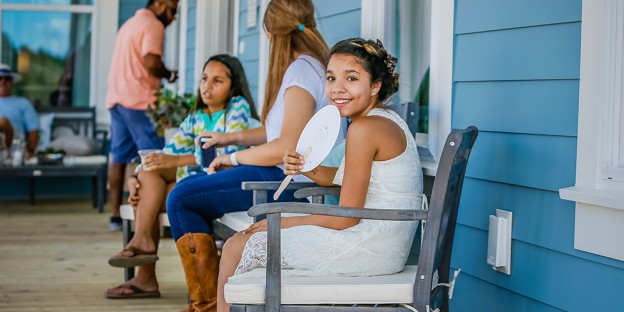 At Summers Corner in Summerville, SC, the homes are built on long-standing traditions, not passing trends. They borrow from the distinct architectural styles of the Lowcountry, with a variety of elements that suit the local climate and manners.
Of course, that isn't to say they don't feature the most modern amenities. It's simply that Summers Corner believes that when looking to the future, it's just as important to acknowledge the past.
That's why you won't see rows of tan and beige, and one house looking like the next one, and the next one (and the next one).
Instead, you'll see broad front porches made for conversing with neighbors or sipping sweet tea. You'll find picturesque windows offering beautiful views of the gardens right outside. You'll walk through garden rooms that open up to allow gentle breezes to pass through. And you'll notice an intention behind every detail.
As one of the visionaries behind our community, renowned land planner Rob Robinson, said, "One of the most beautiful things about Summers Corner is a variety of traditional styles and time-tested building practices that have found a unique voice throughout the region. Colors and details take their cues from generations of architecture…think of the low eaves of Lowcountry houses, the bright white clapboard siding of Colonial Revivals, the muted tones of the Arts & Crafts movement, the ornamented and picturesque Carpenter Gothics and Antebellums. Homes in Summers Corner will have a folk architecture that feel like art pieces in the garden. With a deep sense of belonging."
This sense of belonging is due, in large part, to the way the community feels like it was established over generations. Homes are situated on lots of various sizes and shapes, with diverse setbacks from the sidewalk or street—a nod to how settlements of a bygone era followed the lay of the land. It is this, perhaps, that makes Summers Corner most unlike other new communities.
As Robinson explains, "We let the streets be defined by an organic 'logic'—where every bend in the street creates an unexpected discovery. We're always interested in surprises."
Planned with an emphasis on the unfiltered beauty of the area, each home is within a few minutes' walk to a public park or garden. And not only does the community have its own private lake and pool, it is also surrounded by broad expanses of water and miles of trails and woods. The surroundings lend themselves to a more real way of living—one that encourages you to disconnect and discover—and truly feel like you're living in a simpler time.
Ready to see it for yourself? Start your tour at Corner House Café, where it just so happens that you can also grab a freshly baked pastry, light lunch or really great cup of coffee. Then tour six model homes open daily, and ask the builders about the 18 new homes currently coming out of the ground. In the meantime, browse builders and floor plans online.
Hope to see you soon.