Nature and Sand Hill Elementary
03.27.2017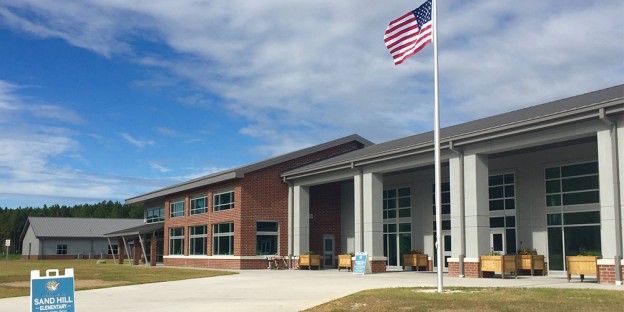 Summers Corner is a community that lives in harmony with the land around us. With gardens that restore and encourage natural habitats. Invitations to explore the outdoors on a trail, in a boat and through a park. Field guides and birdwatching. An environment that truly lives as an outdoor classroom. (And we mean that literally – Helix Park incorporates a circular seating area designed to accommodate a classroom of growing minds!)
So we were excited to find out that the folks at Sand Hill Elementary are incorporating the nature into the school curriculum. In our catch-up with Principal Wally Baird, we learned just how…
Nurturing nature and one another
"We want to teach our children to take care of the environment, animals, community, and one another," he said. "Children need to learn how to nurture and care for others."
Students at each grade level show their care for their school and community through a variety of service learning projects and clubs, including one that supports the school's recycling initiative.
The kids are learning how to care for animals, too. SHES has its very own chicken coop with four resident hens. Dr. Baird would love to have a petting zoo on campus in the future. And they already have a goat donated! Until a suitable home is built for him, the goat is living at a local farm.
Adding to their growing list of animal friends, an American Bald Eagle can often be seen monitoring the school campus from his home in the trees nearby the playground.
A garden is on the list of things to complete this year as well. How wonderful that Clemson University Master Gardener Extension is just around the corner with experts available daily!
Get moving
Outdoors, you may see many SHES students participating in walking, running, or sports clubs around the parks, trails and green spaces throughout Summers Corner. Indoors, you will soon see them climbing the walls – literally!
Thanks to physical education teacher Kara Wilde, Sand Hill Elementary School will also soon be home to a climbing wall. "Rock climbing is an activity that is not only physically challenging, but it also promotes mental, social and emotional growth," Kara said. Students will experience positive risk taking, problem solving and practice decision making.  Climbing gives new meaning to exercise and healthy living outside of traditional and competitive sports. It promotes respect, accomplishment and enjoyment; the climbing wall is an investment of many memories for years to come!
Track the weather
The soon-to-launch WeatherBug program is the perfect intersection of technology and nature. The advanced weather tracking station utilizes educational software to collect, compile and display a plethora of data regarding weather patterns across our country. When the program is implemented at SHES, students will be able to access more than 8,000 sites across the country, and use the data in math, science, social studies, and geography classes. A weather station will be installed at SHES, too, so students can study outdoor temperature, humidity, wind speed, barometric pressure, rainfall and light intensity in their own back yard.
We share in Dr. Baird's reflection of this first year of SHES: "Being part of Sand Hill Elementary School is a dream coming true. Having a close knit community where children are the focus is every principal's goal.  Our passionate/phenomenal faculty and staff make learning fun with engaging and relevant lessons. We will continue to grow together and get even better."
Sand Hill Elementary is just steps from our growing community. See our new homes here in Summerville, SC, many available for quick move-in. Six models are open daily.