Meet the builder: Saussy Burbank
07.06.2017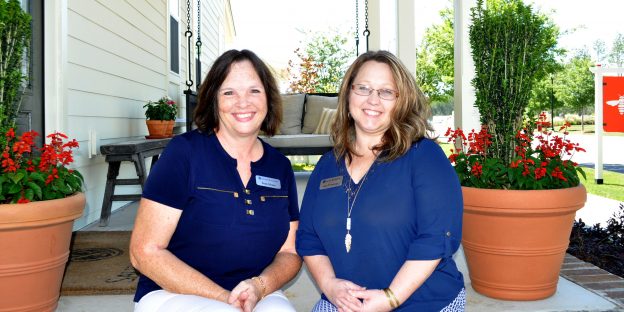 Here at Summers Corner, homes have a distinct, yet familiar, sense of character. You'll find broad front porches, made for conversing with neighbors or sipping sweet tea. You'll find picturesque windows, offering beautiful views of the gardens right outside. You'll walk through garden rooms that open up to allow gentle breezes to pass through. And you'll notice an intention behind every detail.
That's because we brought together visionaries in home building when planning our new community. Among them are four builders bringing our vision to life: FrontDoor Communities, Dan Ryan Builders, Sabal Homes, and Saussy Burbank.
A few weeks ago, we introduced you to the team at FrontDoor Communities. Today, we'd like to introduce you to the folks from Saussy Burbank!
Saussy Burbank
Since 1989, Saussy Burbank has been a force in bringing relevant, sustainable homes to the Carolinas. From the foundation to the fixtures, the company's commitment to style and craftsmanship sets them apart. Their designs reflect the rich architectural heritage of our region, with all the modern building technologies and features required for modern living. As a semi-customer builder, they excel at customizing homes to suit your needs and desires. Love a barn door? They'll make it happen. Fallen in love with shiplap? Just pick a wall.
Saussy Burbank uses a third party services called Guild Quality to survey satisfaction of homeowners during and after the home buying process. They've been honored with the Guildmaster Award, the highest honor for customer satisfaction, every year since 2011. We have no doubt their team on the ground here at Summers Corner, Barb Myers and Ann Turnbull, have contributed greatly to their receiving of the prestigious recognition!
Barb and Ann's enthusiasm for Summers Corner is contagious, only topped by their passion for helping families find a perfectly-fitting home. Kind, sharp, and thoroughly detailed, these ladies are top-notch, and we couldn't recommend them more.
Drop by and see Barb and Ann about building a new Saussy Burbank home at Summers Corner. Or, if you'd like to move sooner, they have several homes under construction now. The Broadleaf at 134 Canopy Way is a single story with open living areas, a stylish shiplap wall feature, and an incredible location – it fronts charming Hummingbird Park!  A popular Honeysuckle design is nearly ready at 104 Nutmeg and includes a beautiful wrapped porch – perfect for indoor/outdoor living. And a series of Lily designs are coming to life along Gardenwall Park. One is still available, but the master bedroom's charming balcony is the epitome of southern charm, so don't delay.
Swing by the Saussy Burbank model on Bumble Way this weekend! And make sure you drop in the Corner House. We'd love to meet you, too!