Meet the builder: Dan Ryan
07.27.2017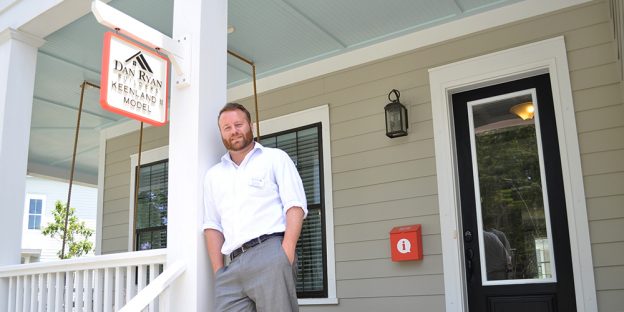 Here at Summers Corner, homes have a distinct, yet familiar, sense of character. You'll find broad front porches, made for connecting with neighbors or sipping sweet tea. You'll find picturesque windows, offering beautiful views of the gardens right outside. You'll walk through garden rooms that open up to allow gentle breezes to pass through. And you'll notice an intention behind every detail.
That's because we brought together visionaries in home building when planning our new community. Among them are four builders bringing our vision to life: FrontDoor Communities, Dan Ryan Builders, Sabal Homes, and Saussy Burbank.
A few weeks ago, we introduced you to the team at Saussy Burbank. Today, we'd like to introduce you to Kevin from Dan Ryan Builders!
Dan Ryan Builders
The folks at Dan Ryan Builders know that home buying means more than purchasing a foundation, four walls, and a roof. Their expert team is dedicated to making your journey to homeownership as smooth, and as fun, as possible. Recognized as a "Top 100" builder by the National Association of Home Builders, Dan Ryan offers contemporary, well-constructed and affordable homes that offer the ideal combination of competitive price and incomparable service long after the sale.
A commitment to customer satisfaction is a cornerstone for Dan Ryan. Consistently, 93% or more of Dan Ryan Builders' customers would recommend the builder to a family member or friend looking for a new home. It's a promise that shines through in every interaction with their on-site agent here at Summers Corner, Kevin Reich.
Kevin's passion, knowledge, and all-around good nature make him a pleasure to work with. Like everyone at Dan Ryan, you'll also notice Kevin is tremendously hard-working, thorough, and detailed. His enthusiasm for Summers Corner, along with his contagious laugh, will get you excited about building your dream home with Dan Ryan Builders.
This weekend, drop by Summers Corner, meet Kevin, and learn more about Dan Ryan homes. There are a variety of home plans and styles to choose from, and a number of move-in ready homes if your timeline is condensed – like the sunny yellow Pimlico II plan at 445 Watergrass Way, a home that masters style and value. If more space is what you're looking for, ask for a tour of the Keeneland Plan at 368 Summers Drive; the double wrap-around porches and upscale finishes are sure to impress. Or fall for the light-filled Rosecroft at 398 Summers Drive. If the double-stacked, two-story family room doesn't make your heart skip a beat, the luxurious soaking tub in the master bath just might do the trick!
You'll find Kevin at the Dan Ryan model on Bumble Way. Drop by the Corner House first for an iced coffee and a map of the community. We can't wait to meet you!