What it's like to live at Summers Corner
03.14.2017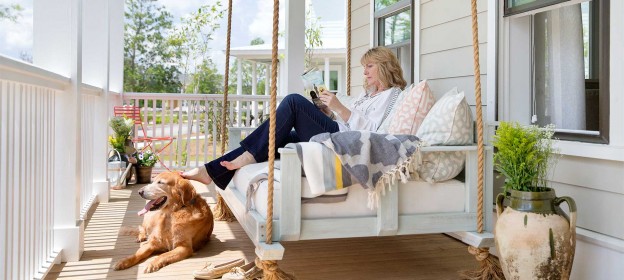 Wake up to the sound of a Carolina Wren's teakettle song outside your window. (So much better than an alarm). Resist the impulse to check your email, at least until the coffee is on. (No rush.) Step out onto the wide, inviting porch, and ease into the day. Take a deep breath, the air is fragrant with wisteria. (You silently thank the master gardeners for teaching you how to keep it thriving year-round.) Think about the next steps:  first, get the kids up and ready for school. Sand Hill Elementary, one of the best in the region, and you're thankful to have it so close to home. Fortunately, your kids are still young enough that they don't mind having you escort them the few blocks to the front door. It's a chance for quality mother-daughter conversation. And to catch up with other parents along the way. It's also good exercise for your energetic rescue dog Bailey, who is insanely grateful to be included in this adventure. After the kids are safely deposited, next step: Corner House Café. Bailey knows the way. Here, you check out the selection of locally-produced goodies, choosing fresh-baked cookies for an after-school treat. You're in no hurry. Unlike the bike club that just whizzed by in a brightly colored blur. (Note to self: find out how to join.) Eventually head for home. Greet a neighbor on her porch. Ask about tonight's dinnner party. Linger awhile. After all, front porches are made for chance encounters. Sure, you have work to do, but it can wait. With your high-speed internet connection, you'll be done in no time.
Because here, "we don't live to work," you remind yourself. "We work to live."   Life is just better at Summers Corner.
Join us. See our new homes here in Summerville, SC, many available for quick move-in. Six models are open daily.