Lennar Announces Sale Closing of Summers Corner Community
08.31.2018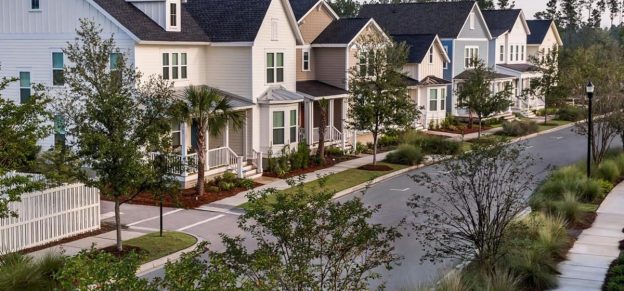 Lennar will assume ownership of award-winning Summerville community
SUMMERVILLE, S.C. – July 31, 2018 – Lennar Corporation (NYSE: LEN) today announced the closing of the sale of the Summers Corner master-planned community. Lennar assumes ownership of the community's 6,800 developed and undeveloped acres.
"We are excited about the opportunity to expand the community's offerings by introducing Lennar's customer-centric home designs and new retail opportunities to this highly-desirable community," said Jason Byham, president of Lennar Coastal Carolinas division. "As Charleston grows, we are committed to making Summers Corner a smart, responsible, and purposeful development with beautiful streetscapes, play parks, thousands of acres of natural preserved land, and a blazing-fast internet infrastructure that people desire. We look forward to making Summers Corner the premiere place to call home."
Summers Corner, named the 2016 Best New Community by the Charleston Homebuilders Association, is currently home to more than 100 families. The community's extensive network of greenspaces, parks and trails, including the 95-acre freshwater Buffalo Lake, provide a distinct way of life that seeks to connect residents to each other and to the natural setting that defines Summers Corner.
The community also offers extensive recreational activities and shopping. Publix Super Markets broke ground for a new store earlier this summer. The much-anticipated 1,000-seat Summers Corner Performing Arts Center is scheduled for a spring 2019 opening. Corner House Information Center features a café, serving up fresh and local fare, including locally-roasted coffee by Coastal Coffee Roasters. Dorchester District Two's Sand Hill Elementary, located in the development, will soon enter its third school year, and Rollings Middle School of the Arts is expected to open this fall.
The sale of Summers Corner was completed on July 31, 2018.
About Lennar
Lennar Corporation, founded in 1954, is one of the nation's leading builders of quality homes for all generations. The Company builds affordable, move-up and retirement homes primarily under the Lennar brand name. Lennar's Financial Services segment provides mortgage financing, title insurance and closing services for both buyers of the Company's homes and others. Lennar's Rialto segment is a vertically integrated asset management platform focused on investing throughout the commercial real estate capital structure. Lennar's multifamily segment is a nationwide developer of high-quality multi-family rental properties. For more information, please visit www.lennar.com.