Introducing Hummingbird Park
08.22.2016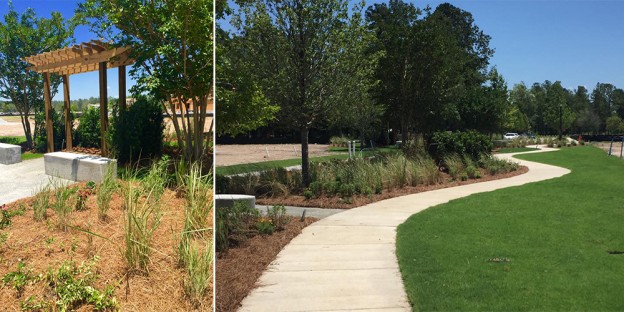 Summers Corner is a community based on an age old idea: people living in harmony with nature.  We aim to create a place that helps people bring their lives back into balance by connecting them to one another and with the beautiful Lowcountry landscape.
Naturally, beautiful parks are a big part of our plan.  You might even say they're the framework in which we're building Summers Corner. As such, residents will find themselves no more than a 5 minute walk from their homes to a park or public garden, each distinct from the next.
We're proud to present the latest of our many completed green spaces – Hummingbird Park.
Hummingbird Park's defining feature is a serpentine walkway that connects the new homes at Summers Corner with the newly opened Sand Hill Elementary School. Shady seating areas offer respite for parents awaiting the school day's final bell.
In the center, native trees separate two sides of the park, one more organic and wild, and the other more structured and traditional. It's a balance you'll see throughout Summers Corner's landscape: the intersection of planned and loose. Of domesticated and wild. It's truly a community that feels unlike any other.
True to its name, the park also includes native plantings that prove irresistible to hungry hummingbirds. The impressive variety of bird species found at Summers Corner will also be on display, as we've placed feeders for nibbling and soon, art-inspired bird baths for cooling off. The quintessentially-Charleston azaleas are sure to delight next spring when they burst into vibrant color for the very first time. (If you've never seen Summerville in full spring display, you're in for an extraordinary treat!)
The garden is our inspiration at Summers Corner, and Hummingbird Park is one of the many ways we're making nature a constant and enjoyable companion. Stay tuned for updates on future parks and gardens in our growing community!
Want to learn more about our community in the garden? View our current inventory of quick move-in homes for sale with limited-time special pricing. And tour our beautifully furnished models, open daily. Start your tour at the Corner House Cafe.