Introducing Archer Park
01.26.2017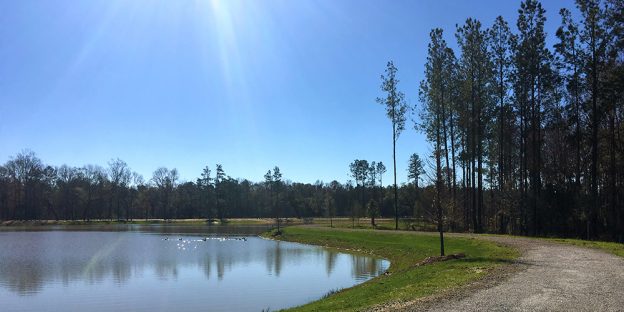 In our community in a garden parks are, naturally, a big deal. That's because at Summers Corner, we're building a place that invites people to come outside and play, to stroll, to jog, to throw a ball to the dog, to expand their idea of home to include gardens, parks, and walking paths. And we're pleased to share another green space is now complete and ready for you to enjoy: Archer Park.
Archer Park's most defining feature is a shimmering lake. On one side you'll find a play area nestled just under a patch of towering pines that provide natural shade and Lowcountry ambiance. A charming arbor also offers respite from the South Carolina sun, and is a lovely place to kick back while the little ones burn off some of that ever-present energy.
Strolling (or biking or jogging) around the edge of the lake, you'll pass natural woodlands, protected wetlands, and open lawns and picnic areas. On the banks you'll also find two custom designed osprey nests built by artist Tom Holmes. (No winged residents in these homes just yet – but we're keeping our fingers crossed!)
Curve around the far end of the lake to the dog park, where man's best friend can enjoy a leash-free run. The trail runs the full perimeter of the lake, so you can plan a morning jog amidst the mist and grazing Canadian geese, or take a leisurely evening stroll and enjoy a signature Summers Corner sunset.
Whatever your pace, Archer Park has a little something for everyone. Come see.