Indoor-outdoor living at Summers Corner
06.01.2016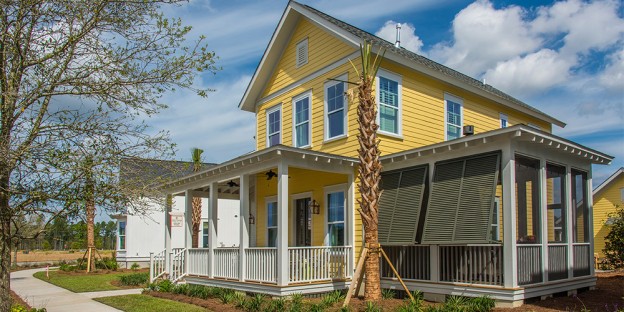 There is an intention behind every detail in Summers Corner. Each beam and balustrade. Every azalea and hedge. Homes are designed to live inside-out, oriented to take full advantage of gardens and parks, with generous windows to fill living spaces with natural light. The common thread in each is an emphasis on connecting to the outdoors in some way.
We asked local interior design expert Kevin Patrick of Piazza Home to help us pass along a few tips for maximizing that connection in each Summers Corner home. Kevin is familiar with our community – he was recently contacted by a few soon-to-be Summers Corner residents to help select fixtures and finishes with the perfect combination of traditional, timeless and on-trend. Here's what he shared:
On using your backyard as a living space
Think of your outdoor spaces as an extension of your home and choose seating and fabrics that make it as comfortable and as inviting as your family room. Modern fabrics are amazing these days – with the ability to withstand sun and humidity for years with the proper care. Create a shady area with a big umbrella or a pergola and accent with groups of coordinating planters. Work with landscapers to create garden beds and landscaping to define your back yard as if it is another room in your house.
On an inviting front porch
The porches at Summers Corner remind me of a time when towns were built differently – when you knew your neighbors and invited them onto your porch for a glass of iced tea. They're deeper than the standard, which means they can accommodate cozy, welcoming furniture that just begs you to kick back and put your feet up.  Something that has motion, like a swing, a glider, or a set of rocking chairs, is always inviting with the bonus benefit of combating the summer heat.
On bringing the outdoors in
It's easy to bring the colors of the Lowcountry landscape into your home: think of the calm earth tones of the marsh and the cool blues of the ocean, lakes and rivers. You can really help your indoor/outdoor spaces flow together using color inspired by the environment. Since homes at Summers Corner have lots of natural light from windows, plant life can thrive inside, too, so you can literally bring some of the outdoors in.
Interested in learning more about our community in the garden? Start your tour at Corner House Café + Information. Or view homes for sale here in Summerville, SC online.