Getting to know the neighbors: The Vandells
10.05.2017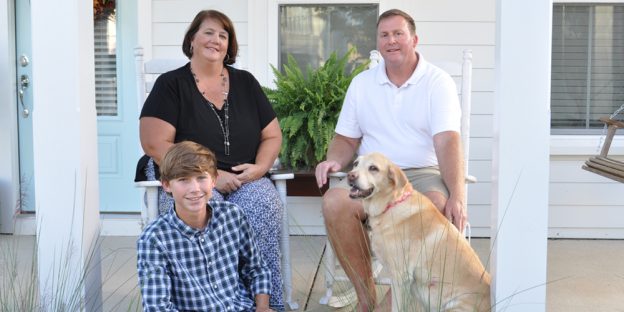 The homes of Summers Corner are designed to work for a variety of lifestyles – from busy parents of young kiddos to empty nesters of college students to retirees enjoying a more leisurely lifestyle. A place living comfortably in the space between town and country, our walkable, connected community has something to offer just about everyone – a spectacular setting of fresh water lakes and pine forests, a community pool with splash pad, a phenomenal community cafe and numerous green spaces to spend some quiet time, or connect with each other and with a larger, and wilder, community in nature. Of course, we have the state's very best schools and great location, too.
But what's it really like to live here? We had the same question, so we went straight to the source: our residents themselves! Below, some insight about life here from the lovely Vandell family.
Your family relocated from elsewhere in Summerville. What's your favorite thing about living in the Flowertown in the Pines?
Summerville has many great features and offers a wonderful environment in which to live and work. We particularly enjoy the nice weather, nice restaurants, shopping, and beaches, as well as many friendly neighbors. We also have several friends and family members who live in the area. Thomas has lived in Summerville since age one.
Why Summers Corner?
Summers Corner offers a unique living experience that is hard to find in other communities. The private lake, the walking paths, lush landscaping, and nice swimming pool are the highlights of living here. There is a sense of community in Summers Corner; we have met several great neighbors while enjoying the amenities. This is what we were looking for in a community, and we found it here.
What's your favorite thing about living here?
Our favorite thing about living in Summers Corner is the abundance of amenities and the friendly neighbors. This allows us to spend most of our free time right here in the neighborhood. With so many available activities right here in Summers Corner, we always have something to do in our spare time. Whether we are fishing, swimming, talking with neighbors, going to the Corner House Café or farmers market, we have so many options within Summers Corner. We like the safe, friendly, environment that offers our teenage son the chance to roam freely in the neighborhood, as well as excellent schools nearby.
Why did you choose a Saussy Burbank home?
Saussy Burbank has an excellent reputation in this area for building quality, stylish homes at affordable prices. Their customer service is exceptional.They are committed to making sure you are completely satisfied with your new home.
What's your favorite thing about your home?
The two favorite things about our home are the details of the construction materials and the actual design and floorplan of the home. The details we like are the hardwood floors, shiplap siding, the island in the kitchen and the front porch. We also like the design and floorplan because it gives us the living space we need in a much smaller house than what we previously had. Being able to downsize and not give up much livable space is something that excites us about this home.
What are you most looking forward to around Summers Corner?
We are most looking forward to our current activities that we already enjoy at Summers Corner such as going to Buffalo Lake, Corner House Café, and the pool.  We also look forward to the many opportunities to get together at different events and socialize with our neighbors throughout the year. Additionally, we look forward to amenities that are coming soon such as the performing arts center, the retail shopping center, and various new parks throughout the development.
We're so glad to have you here, Vandell family! Stay tuned for more from our residents.