Getting to know the neighbors: The Shanleys
08.24.2017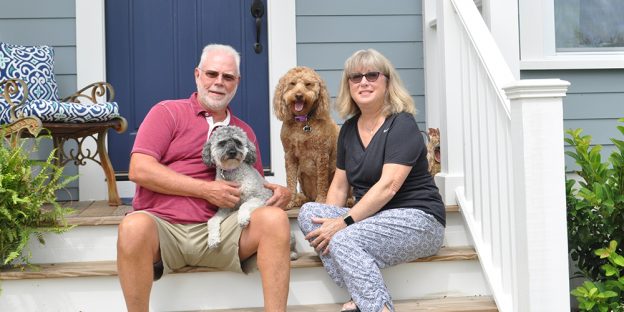 The homes of Summers Corner are designed to work for a variety of lifestyles – from busy parents of young kiddos to empty nesters of college students to retirees enjoying a more leisurely lifestyle. A place living comfortably in the space between town and country, our walkable, connected community has something to offer just about everyone – a spectacular setting of fresh water lakes and pine forests, a community pool with splash pad, a phenomenal community cafe and numerous green spaces to spend some quiet time, or connect with each other and with a larger, and wilder, community in nature. Of course, we have the state's very best schools and great location, too.
But what's it really like to live here? We had the same question, so we went straight to the source: our residents themselves! Below, some insight about life here from the lovely Shanley family.
What drew you to Summerville for retirement?
We chose Summerville because of its proximity to Charleston. We explored other communities that were too far out or too expensive for our retirement budget. We explored retirement communities but did not want that environment. We enjoy all aspects of family life. Summerville provided a good solution. Downtown Summerville is a delightful place!
Why Summers Corner?
We fell in love with Summers Corner when a friend living here told us about it.  When we were finally able to explore the community, we bought the home pretty much immediately. I could not believe my eyes when we finally walked the neighborhood! It is so lovely.
What's your favorite thing about living here?
Our favorite thing about the house has to do with how we modified it. That is another factor for Summers Corner – retirement communities frowned upon home modifications. Mark has a fabulous workshop in his two car garage plus carport, and I have my dream art studio that was originally a large bedroom upstairs!
Why did you choose a FrontDoor Communities home?
We chose FrontDoor Communities because of the affordable price and their willingness to modify the home. It is just beautiful and functional.
What's your favorite thing about your home?
We continue to look forward to sharing events and special times with our neighbors in the community. We enjoy being the "older" kids on the block. Mark helps out neighbors with home projects, and I am starting a book club and have had a small summer sewing camp with a couple of neighbors.
What are you most looking forward to around Summers Corner?
We especially appreciate the care we have received from our builder. They have responded to our requests, professionally and timely. It has made this life transition much easier.
We're so glad to have you here, Shanley family! Stay tuned for more from our residents.