All You Need is Love and Chocolate
02.16.2016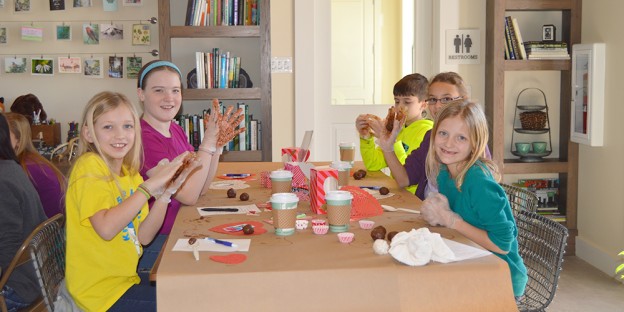 Chef Herman McNeil turned 14 youngsters into amateur chocolatiers this past Saturday at Summers Corner.  They made two types of truffles: Classic Bittersweet and Chocolate Raspberry. The group had a blast packaging up their sweets in festive boxes, bags and ribbons, topped off with a tag bearing the age-old wisdom, "All You Need is Love and Chocolate."
Want to give it a go yourself? Here's how:
To start, heat 1 cup heavy cream in the microwave or on the stove until simmering, and then pour over 8 ounces of bittersweet chocolate chips.  Stir to melt the chocolate. To make the raspberry truffle, add 1 tablespoon of seedless black raspberry jam. Once the chocolate is fully melted, pour it into a pan and refrigerate for 4 hours to allow it to harden.
Using a cookie scoop or melon baller, scoop the chocolate onto parchment paper, and then use the palms of your hands to roll into small balls.
Hermann brought along three options for coatings – crushed pretzels, cocoa powder, and toasted walnuts, but feel free to be creative! Coconut, crushed mint candy, and almonds are also great options. Gently roll the chocolate balls in the toppings until fully coated. Our kiddos thought the cocoa powder paired with the raspberry truffle was the best!
It was one of our favorite Saturdays at Summers Corner yet! Watching the group diligently preparing truffles for their Moms, Dads, and Grandparents was as heartwarming as it gets. We hope to see more smiling faces at Summers Corner events. Next up: S'mores in the Commons!