Fit in February at Summers Corner
02.01.2018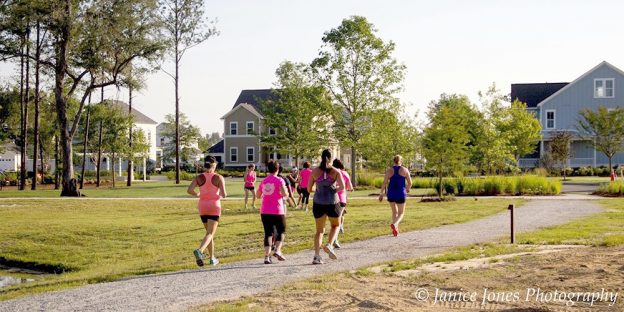 At Summers Corner, healthy living means a lot of things. Good food, locally sourced. Farmers markets. Kayaking on Buffalo Lake. Our trails, parks and pathways invite you to get out, get moving, and breathe deep.
This month, we're putting a spotlight on wellness with a "Fit in February" initiative. We're sharing healthful, wholesome food choices and hosting workouts that get our bodies moving and connect us with nature and our inner-selves. Below, a peek at what's to come! Mark your calendars and plan to join us.
February 1 | Family Fit night at Sand Hill Elementary School
Good wellness habits start early and SHES is providing their kiddos and parents an opportunity to work on strength, balance, and overall fitness. All will get to enjoy the rock climbing wall, basketball, an obstacle course, and more that demonstrates fitness is fun. Stay tuned for photos on Facebook and Instagram because we will be joining in the fun, too!
February 3 | Fitness in Action (FiA)  
We love that Summers Corner is home to FiA Summerville on Saturday mornings at 7am.  All workouts are free and for all levels, from beginner to advanced.  We think that our green space, trails and parks are a perfect "fit" for FiA. Check out their entire schedule for other locations, days, and times for you join this fantastic group of ladies.
February 12-18 | Heart-healthy goodies at Corner House Café
Food plays a big, delicious part in keeping fit and well. You already know that Corner House Café serves up some of the best locally-sourced food around. Mid-February, we're excited to highlight all the heart-healthy goodies on the menu – and introduce specials to keep you focused on eating wholesome.
February 22 | Nightcap Yoga with Corner House Café
Bring a friend and enjoy an evening yoga class at Corner House Cafe. This yin/yang class will focus on relaxing and stretching before moving into a slow flow for a meditative experience to improve flexibility, strength, and mindfulness. Ways to register coming soon!
February 27 | Fit with Fleet Feet
Our Builders, Corner House crew and folks from WestRock are up for a fitness challenge too! Lolli Haugh, Community Outreach Coordinator with Fleet Feet is bringing a dynamic and interactive program to the Corner House; one that will help us stay healthy as we balance work, life and fitness.