Fit in February: Eating wholesome at Corner House Café
02.13.2018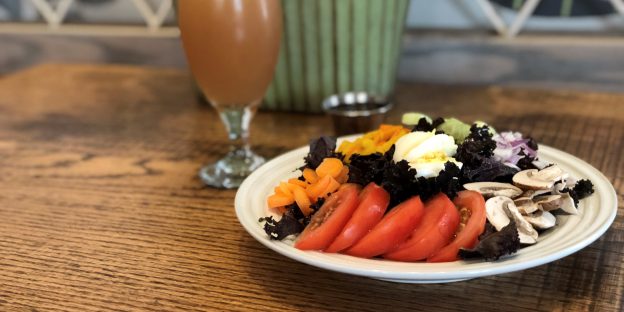 At Summers Corner, healthy living is a cornerstone of everything we do. It's why we built parks and trails before we ever built a home. It's why we host groups like FiA in our green spaces and Farmers Markets under the pavilion (stay tuned for a 2018 schedule). It's why one of the first things we did was open a café serving locally-sourced, wholesome foods and drinks. Good food, made with quality ingredients, keeps a heart healthy and a body fit.
In honor of Fit in February, we want to highlight how Corner House Café can help you keep your fitness goals on track. It's also American Heart Month, a special reminder that what you put in your body and the ways you move it can have long-term impact on your overall health. Below, some heart-healthy Corner House Cafe menu items to fuel your body and mind.
For breakfast –
Yogurt and fruit parfait is available every day. Made from Lowcountry Creamery yogurt, in-season fruits, and house-made granola, this yummy breakfast feels like a treat. Enjoy with Coastal Coffee Roasters coffee with a splash of soy, skim, almond, and even coconut milk – your choice. If you need to sweeten things up, we've got you covered. All our syrups are house-made, so no sneaky preservatives or unknown chemicals will be hiding in your Caramel Latte.
Oatmeal by Modern Oats is whole grain, vegan, gluten free, and non-GMO, but big on fiber, protein, and taste. We carry goji berry, nuts & seeds, mango blackberry, Vermont maple and 5 berry flavors.
For a heartier breakfast, crustless quiches change up daily, but they're always packed with veggies and healthy protein. The eggs come from happy hens at Three Oaks Farms in St. George. Served with an organic mixed green salad or side of fruit for a complete way to kick off the day.
For lunch or dinner –
Garden salads at Corner House Café are a rainbow of organic mixed greens, carrots, red onions, sweet peppers, and tomatoes. Upgrade to a classic chef salad to include hard-boiled eggs, bacon, and shredded cheddar cheese. Both the blue cheese and herb vinaigrette dressings are house-made. This week, ask for your salad to be made with Three Oaks Farms organic scarlet kale instead of mixed greens. Your heart will thank you!
Wash it down with a house-made kombucha with a splash of elderberry elixir to keep your belly happy. Kombucha is great for digestion and is said to stimulate the immune system. Elderberry elixir is commonly used to ward off the flu by also kicking that system into gear. The drink is perfect parts tart and sweet AND provides a slew of health benefits. What's not to love?
Afterwards, reward yourself with a gluten-free chocolate chip cookie. You deserve it.
Happy Fit in February. Keep up the hard work!