FiA at the Corner of Fitness
02.08.2018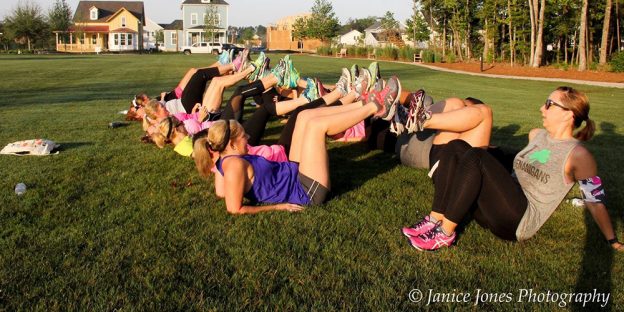 Summers Corners' green spaces and trails allow you to explore to the great outdoors in whatever fashion suits you best. Prefer your outdoor time on water? Try Buffalo Lake. Enjoy a shady grove of pines? Be sure Helix Park is on your walking route. Does soaking up some sun via bicycle sound even better? We've got that covered, too.
If you drive by bright and early on Saturday mornings, you'll find a motivated group of ladies doing just that – enjoying our green spaces and breaking a strength-building sweat.  We love that FiA has taken outdoor fitness to a new level all over Summerville – and welcome them to our growing community each weekend.
This encouraging group of women hold workout sessions for every level, from beginner to advanced. FiA stands for Females in Action – and in action, they are. They take their commitment beyond physical fitness to friendship, fellowship, and philanthropy. Here's how they stay in action:
Bodies – FREE, peer-led workouts most days of the week
Minds – Book clubs, career and family discussion groups, and faith interactions
Hearts – Time and resources are dedicated to the community, and these ladies invest in each other by joining together for coffee, weekday lunches, and FiA socials
If you're looking for a new workout place to call home, try FiA Summerville.  You may discover a new part of town – meet a new neighbor, even make new friend or two.  Learn more and get connected at FiaNation and FiA Summerville.
Of course, swing in Corner House Cafe post workout. Delightful coffee by Coastal Coffee Roasters is always brewing, and a selection of bites and delights, like fresh parfaits filled with fruits and granola, delicious quiche with side green salad, and gluten-free baked goods, are ready for your enjoyment.
Cheers to Fit in February!