Fall is for Football
11.02.2016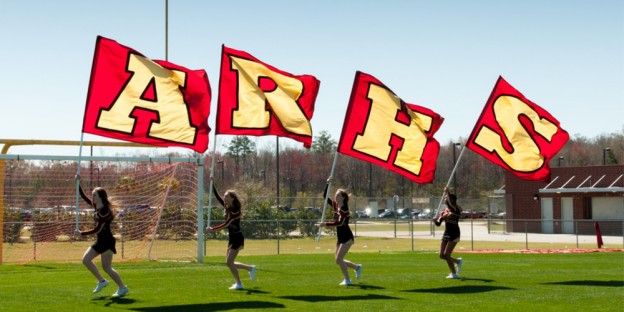 We believe a lot of things in the South. That tea is best served iced and sweet. That grits are just as good for dinner as they are for breakfast. That sprinklers were made for running through and tires are for swinging on.  And in the fall, most Southerners will agree that fall weekends are made a whole lot better when you add football to the mix! Below you'll find a few tips on how best to enjoy this all-American sport in the charming town of Summerville.
Why we love it
The way we see it, football is about community. If you've ever attended a big football game, you'll know the feeling. There's an unspoken camaraderie between fans. Shaped through shared anticipation, enthusiasm and excitement (and yes, sometimes disappointment), the sentiment permeates the stands, the tailgates, and the sports bars. Friends are made of strangers. Tailgates become block parties. High-fives are thrown and memories are truly made.
Where to watch it
On Friday evenings you'll find folks cheering on teams at Ashley Ridge and Summerville High Schools. In fact, Summerville is recognized as home of football's winningest coach, Summerville High School's John McKissick. In 2012, he became the first American football coach in history to win 600 career games!
Saturdays, for many, mean treks to University of South Carolina to cheer on the Gamecocks or to Clemson to see the Tigers play. Things get extra interesting the weekend of Thanksgiving, when our two home teams go head to head in The Palmetto Bowl!
Triangle Char and Bar, Two Keys Public House, and Carolina Ale House are favorite places for catching the games when you can't see them in person, and great spots for the week's best NFL games.
What to eat
If there's anything we like more than football, it's great food! Being the south, there's no shortage of great BBQ joints to fill your pre-game cravings. For tailgates or football parties, this pulled-pork recipe is a winner, and this smoked-bone-in turkey breast recipe will please the pickiest of eaters.
The Charleston region's also become a hotspot for high-quality, locally-crafted beer. We recommended dropping by the Corner House to grab a growler of Freehouse Beer if you're planning to enjoy the game with friends at home.  Other great local craft breweries to try: Holy City Brewing, Westbrook, and Coast.
What's your favorite fall football tradition?
Join our growing Summerville, SC community: view our current inventory of quick move-in homes for sale. And tour our beautifully furnished models, open daily!