Corner House Cafe: now with expanded menu and hours
08.08.2016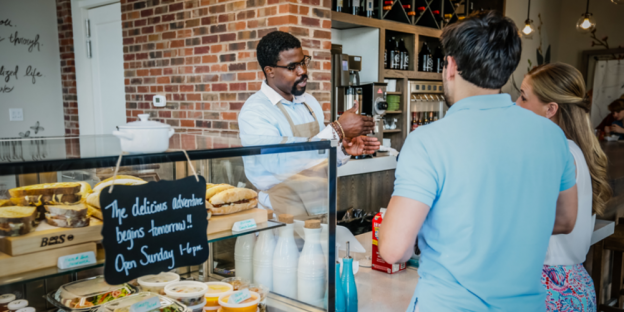 At Summers Corner, we believe there's nothing quite like a really good cup of coffee. Or glass of wine. Or a great sandwich. Those who agree with us will find all those things—and then some—at Corner House Café, located in the center of The Commons.
And you can start your day with our fresh, seasonal fare, too – we're open at 7 am Monday through Saturday, and at 11 am on Sunday. The schedule accommodates our new residents, as well as the families, teachers and staff who are now enjoying their very first year at Sand Hill Elementary School.
To top things off, we've also refreshed our menu to take advantage of our on-site kitchen garden's bounty of Thai basil, golden pineapple sage, parsley, chives, Kentucky mint, lemon grass, oregano and okra (Thanks, Clemson Extension Master Gardeners!). New options will be available on a seasonal basis, with the goal of creating more choices for guests. Guests can now enjoy the following new items:
Tomato Sandwich – heirloom tomatoes, pesto, mozzarella cheese, basil, red onions
Southern Style Reuben – ham, fontina, 1,000 Island dressing and Doux South chow chow on pumpernickel bread
Adult Grilled Cheese – fontina & white cheddar cheese and blueberry lavender jam
Fresh Garden Salad – arugula, carrots, red onions, sweet peppers, heirloomtomatoes, herb vinaigrette
Chef Salad – Wishbone Farm hard-boiled eggs, bacon, red onions, heirloom tomatoes, croutons and yogurt blue cheese dressing
Tuna Salad – tuna, dill mayo, bread-n-butter pickles, red onions, cutting celery
Locally sourced fruit salad with fresh mint from the garden
For breakfast be sure to try our house-made pecan raisin toast, oatmeal with cinnamon sugar and raisins, Belgian waffles with warm maple syrup, or one of our daily specials utilizing the best and brightest goods the Lowcountry has to offer. It all pairs beautifully with coffee and espresso from Durham, NC-based Counter Culture Coffee.
We've also brought in Cirsea Ice Cream to round our sweet-treat offerings. Cirsea is locally owned and operated in Charleston, SC. The made-by-hand, small batch ice creams compliment our other locally and regionally-sourced fare, like craft beers by Freehouse Brewery and King of Pops treats.
Want to learn more about our community in the garden? View our current inventory of quick move-in homes for sale with limited-time special pricing. And tour our beautifully furnished models, open daily. Start your tour at the Corner House Cafe.