Celebrating Mom: Mommy & Me Tea at Summers Corner
05.10.2016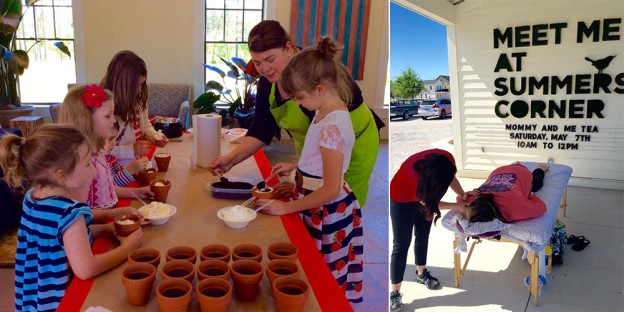 For Mother's Day, we set out to make Mom's day with plenty of relaxing, unwinding, and pampering, and we accomplished just that!
Moms enjoyed fruit-infused water, mimosas and parfaits while relaxing in our Commons area prior to retreating to the market canopy for massages.
The children penned and glued and crafted notes of love for their mommies in the Garden Studio. Their joyful hearts were evident with every word written. To add sweetness to sweetness, little hands with big hearts also decorated cookies, cupcakes and chocolate flowers with much delight.  With card and treats in hand the children presented their gifts to their mommies and ALL enjoyed a cup of tea.
We asked moms to help us build a scrapbook for new families moving into Summers Corner. They each took a moment to reflect upon what they love best about being a mom and shared their favorite motherhood "mottos."
Come see our BEE-uty of Motherhood scrapbook in the Garden Studio.  We'll even leave a page for you!
Special thanks to our wonderful pastry chef Ann Abram and massage therapists, Janelle Kerek and Brian Hoke (and Cristy Jamison, Touchpoint) for your time and talents.
Learn more about the Summers Corner community and homes for sale in Summerville, SC.