Why buy new? 5 five reasons to start fresh with your new home
03.10.2018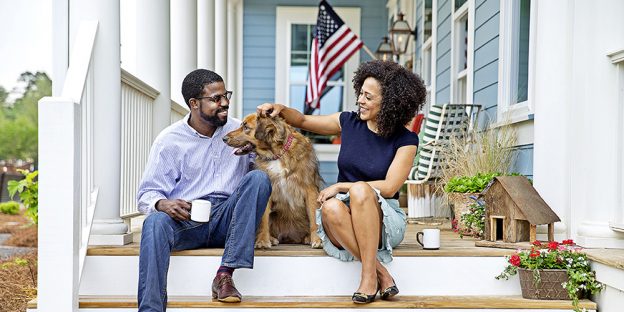 So you've decided to embark on a big, exciting adventure: buying a new home! There's a lot to consider, including whether a previously owned home or shiny new construction is right for your family. You've probably guessed – we suggest the latter! Below, some reasons we think new homes are the way to go.
Make it yours.
When you build new, you choose the lot. The floorplan. The landscaping. The finishes. Every detail in every nook and cranny is customized to your liking. No repainting of rooms, cabinetry or exteriors needed. No renovations. No ripping out old, gnarly landscaping to replace it with something fresh. All this saves you time and money. And the best part of it all? It'll truly feel like home. Your home.
Energy efficiency = $
Older homes can lack proper insulation, come with outdated appliances and HVACs, and include windows and doors that let a draft in and your precious AC out. New builds include the latest and greatest in washers, dryers, and kitchen appliances, nearly all of them Energy Star qualified. At Summers Corner, your new, energy-efficient home will save you money and keep temps cozy inside, all year long.
Up-to-date tech
Summers Corner has partnered with Home Telecom to offer fully redundant fiber to each and every home in the community. That means access to gigabit internet speeds, among the fastest in the state. We're talking 100x faster fast! This allows you to take advantage of ever-evolving home automation technologies. Everything from your refrigerator and thermostat to your home security system works better connected to uber-fast internet. Read more about our gigabit speeds.
Amenities built-in
We know your home is more than just the four walls and roof of your house. Your home is the community. That's why we built a number of amenities before a home was ever built. Like Buffalo Lake, half a dozen parks, and tons of trails. We even thought about your four-legged family members – they'll love the Bark Park! All of this is literally just minutes from your front door.
Location, location, location.
New communities are built right-in-the-middle of it all. Summers Corner is perfectly positioned between Charleston and downtown Summerville, and just a short commute to new jobs centers like Boeing and Volvo. It's also close to shopping and dining, and in the one of the best school districts in the state, Dorchester District II. See all the great stuff close by here.
Interested in learning more about our new homes community? View homes for sale here in Summerville, SC.