Bits and Bites: A Summery Mango Salsa for your Fourth of July party
06.25.2015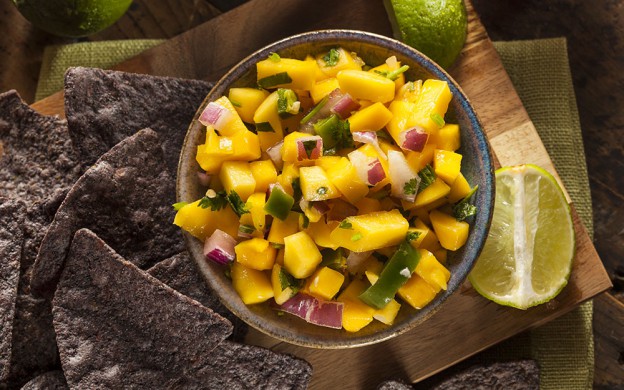 In the Lowcountry, summertime means fresh fruit and produce by the barrelful. Blackberries and blueberries are in peak season, cantaloupes and cucumbers are perfectly ripe, and the tomatoes are plump and ruby red. Truly – it doesn't get any better than a fresh tomato still warm from the sunshine.
One of our favorite ways to enjoy our summer bounty is by whipping our favorites up into a flavorsome salsa. (Of course, the more we can source locally, the better.) Salsa is the perfect appetizer on these warm evenings, especially when served with a cool beverage.  And the sky is really the limit when it comes to what you can incorporate into a salsa. Looking for something savory?  Try a twist on the classic tomato-centric salsa by adding in black beans and cumin. Hot and spicy more your speed? Add habaneros to the mix. If you're up for adding a bit of sweet to your spicy, give the mango salsa below a try. Serve it with corn or pita chips, or add to fish tacos. This salsa is also great as a topping for fresh-off-the-grill chicken or pork.
Summery Mango Salsa
3 mangoes, chopped
¼ cup fresh cilantro, finely chopped (You can grow this ingredient right in your window sill!)
½ cup red onions, chopped
2 jalapeno peppers, seeded and chopped (Thrive in the summer in our region – directly in the ground or in a backporch pot)
½ teaspoon each of zest of lemon & lime
Salt & pepper to taste
¼ cup red wine vinegar
Whisk together vinegar and salt and pepper, then add mangoes, jalapenos, lemon and lime zest and cilantro. Refrigerate for at least 30 minutes.
It's a mix that tastes just like summer. Give it a try, and happy Fourth of July!
Recipe courtesy of JA Moore, Corner House Cafe manager