Spring is a berry good season!
04.09.2015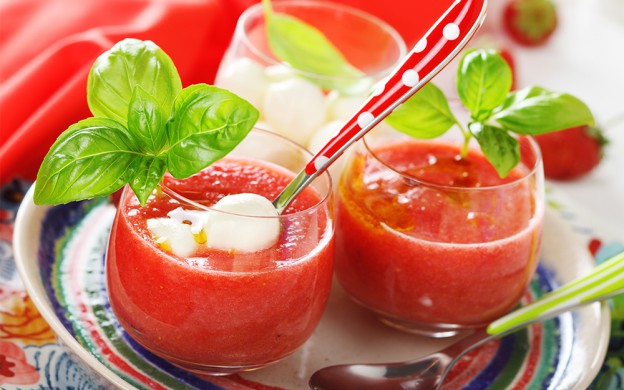 April marks the beginning of a lot of our favorite things – spring, the growing season, farmers markets. In the Lowcountry, the warmer weather also designates the beginning of fresh-off-the-vine, still-warm-from-the-sun strawberries! Our area features a host of farms that have a "U-pick" option during strawberry season, allowing families to roam the strawberry field filling buckets of the ruby-red fruit themselves. Boone Hall is a favorite, but there are many to try throughout the season!
The sweet, juicy fruit is a star in many desserts throughout Spring and Summer – we recently tried this Strawberry-Pretzel Icebox Pie with great success! The Strawberry Gazpacho recipe below is a little more atypical, but the ideal combination of sweet and savory. Served chilled, it's perfect on a warm evening served with a hearty salad. Don't forget to top that with local strawberries, too!
Strawberry Gazpacho
2 T. olive oil plus ½ cup olive oil separate
2 cloves garlic, peeled and crushed but whole
2 ½ cups cubed bread, crusts removed
3 sprigs thyme
3 qts. Strawberries, hulled washed and quartered
2cups English cucumber, peeled, seeded and small diced
¾   cups diced red bell pepper
½ cup diced green bell pepper
1 jalapeno, seeded and diced
4 roma tomatoes, diced
3 T. red wine vinegar
½ cup Balsamic vinegar
¼ cup sugar
¼ cup red wine
Juice of 1 lemon
1 ½  T. salt
In a large saute pan over medium heat add the 2 T. of olive oil and garlic cloves and allow the garlic to start to brown.  Add the bread cubes and thyme and continue to cook until the bread is golden brown.
Remove the garlic and thyme and place the bread cubes in a large container like a bain marie or mixing bowl.  Add the remaining ingredients, mix well cover and allow to marinate at room temperature for several hours.
Puree the ingredients after marinating in a vita prep in batches until very smooth.  Strain through a china cap, adjust seasoning with salt, pepper and acid or sugar and chill thoroughly.
Recipe courtesy of Chef Scott Stefanelli