A Glimpse of Summers Corner's Grand Opening
09.25.2015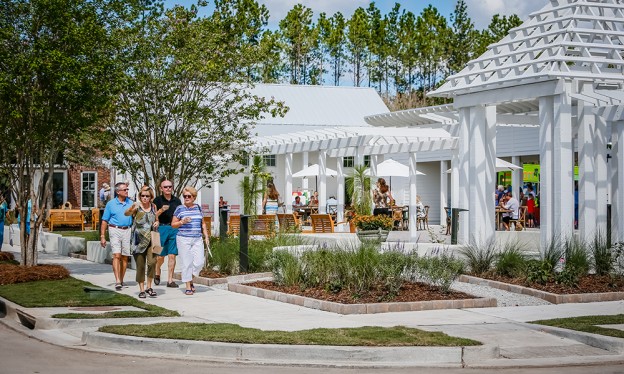 Our Grand Opening event on Saturday attracted hundreds of curious locals, out-of-towners looking to relocate and regional neighbors seeking a life filled with nature and a close-knit community feel.
The beautiful weather found guests alternately basking in the sun and lounging under shade trees and pergolas throughout Summers Corners. Many visited the Corner House to sample locally sourced food and drinks, relax in the comfortable seating areas and take it all in.
As natural light flooded through the six model homes, many guests commented on how bright and airy they were. They also appreciated the spacious and functional floor plans and unique features. People felt the décor reflected the calm, relaxing vibe that Summers Corner radiates.
One visitor, Jane Horn, appreciated the variety of home styles. "I like that there are several architects and builders so all of the houses look different." She mentioned loving a first floor bedroom, and the large closets and bathrooms.
A crowd favorite was the garden space. The Clemson Extension Horticulture & Tri-County Master Gardeners Office is the first extension presence in a neighborhood community. Amateur gardeners can grab a cup of coffee from the Corner House and walk over to ask the volunteers their gardening questions.
Amy Dabbs, Horticulture Agent, Clemson Extension Service, said the group will conduct classes and demonstrations based on what community members want to learn.
Nearby residents Drew and Catherine Sasko travel through Summers Corner every day and enjoyed seeing the community being developed.  They like the community amenities, especially the Corner House, and Catherine noted the garden is her favorite part.
Explore this community any day of the week! We encourage anyone interested to visit the Corner House Café and Information Monday-Saturday, 10 a.m.-6p.m. and Sunday, 1 p.m.-6p.m.