A beautiful place to live – for those with wings and without
05.19.2016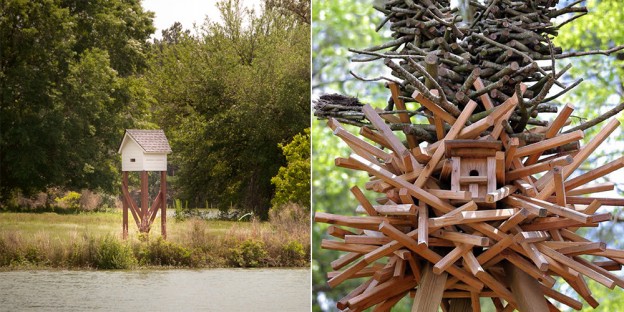 Have you ever heard a Carolina Wren sing its tea-kettle song?
Or watched a Brownheaded Nuthatch use a piece of bark as a tool?
Ever seen the mid-flight eating habits of a Purple Martin?(Which, you might like to know, aren't even purple.)
At Summers Corner, you just might. Because they, and a multitude of other friendly birds, are our neighbors, too. And much like the people who reside here, they want their homes to be comfortable and native to the Lowcountry. That's why much care has gone into creating a variety of healthy habitats and nesting environments for our feathered friends in our gardens, parks and greenways.
Many can't simply be called birdhouses- they are art installations in their own right. We worked with sculpturist Tom Holmes and Two Forks Collective to install four bird house sculptures throughout our parks. The sculptures are designed and inspired by Summers Corner's natural habitat and are a stunning blend of form and function.
You'll also find bird boxes throughout our community that will become home to Bluebirds, Robins, American Kestrels, and Wood Ducks. We owe a big thank you to South Carolina Bluebird Society for helping us locate and install the boxes, and for sharing their passion for our state's spectacular flora and fauna.
Just down the road at Buffalo Lake, you can look out across the water to the Summers Corner bat house. Inside, dozens of chambers act as rooms of sorts for more than 6,000 bats that spend their days resting comfortably beside the lake. As the sun sets each evening, a flurry of tiny bats head out to do hard night's work, acting as a natural way to address the pesky mosquitoes who also share a fondness for the Lowcountry.
We like to think of these bird habitats as "art pieces with purpose," making Summers Corner a beautiful place to live – for those with wings, and without.