Technology at Sand Hill Elementary School
03.09.2017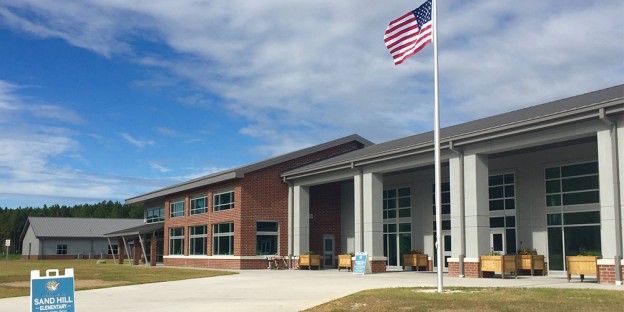 At Summers Corner, people are embraced by nature, but they also having access to the fastest internet in the state. You can surf, download, email and more at speeds up to 1 gigabit per second – that's 100x faster than the average connection. Here, nature enriches our lives, but technology allows us to connect to the greater world.
And there are few places that access to the latest and greatest is more important than at school. That's why the next focus of our Sand Hill Elementary School series is technology. In our catch-up with Principal Wally Baird, we learned just how he's incorporating up-to-the-minute tech into the SHES curriculum.
Here are a few tools Sand Hill Elementary students are benefit from:
Smart Boards
Every classroom at Sand Hill Elementary is equipped with a Smart Board. A major upgrade from the overhead projectors of yore, these computer-connected screens allow teachers to implement fun, interactive lessons. Students are engaged by rich visuals displayed at the tap of a finger, and teachers can connect to a wide network of online lessons and resources.
Tinker Lab
Sand Hill will soon introduce a Tinker Lab to promote STEM education. It will be an incredible resource that allows Kindergarten through 5th to deeply engage in science, engineering, and tinkering as they are introduced to new resources and technologies. This hands-on, student-centered learning environment will include modules like Bloxels for designing video games, KAPLA blocks for learning geometry and psychics, and a 3D printer for future innovators! In fact, the 3D printer is already in place. See it in action!
Robotics Team
The robotics team is just as cool as it sounds. Kids gather in the school's engineering lab to design and build robots, learning valuable STEM concepts they will be able to apply across academic and real life disciplines. They're also encouraged to enter their designs into district-wide competitions.
WeatherBug School
The WeatherBug is an incredible weather tracking station that utilizes educational software to collect, compile and display a plethora of data regarding weather patterns across our country. When the program is implemented at SHES, students will be able to access more than 8,000 sites across the country, and use the data in math, science, social studies, and geography classes. A weather station will be installed at SHES, too, so students can study outdoor temperature, humidity, wind speed, barometric pressure, rainfall and light intensity in their own back yard.
Stay tuned in the coming weeks for insight into nature plays an important role at SHES!
Sand Hill Elementary is just steps from our growing community. See our new homes here in Summerville, SC, many available for quick move-in. Six models are open daily.