4 reasons to start your tour at Corner House Cafe
02.08.2017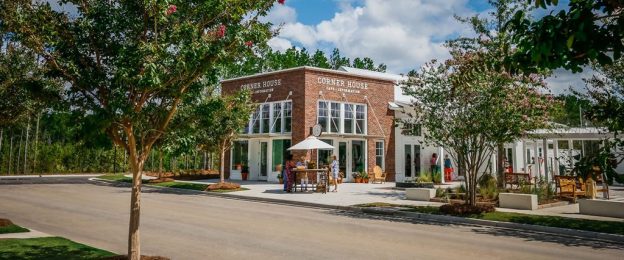 Located in the heart of The Commons at Summers Corner, Corner House Café is a place you can gather with old friends … or meet some new ones. But it's more than that. It's also our information center, where you'll learn about the community and homes at Summers Corner. If you're headed out to Summers Corner soon, you'll want to drop by the Corner House first. Here's why:
Casual conversation. At Summers Corner, we talk a lot about connecting. Connecting with one another, with new neighbors, and with the stunning Lowcountry landscape that surrounds us. So, it's probably no surprise our info center is part café: conversations are just easier over a cup of coffee – or a glass of wine!
The forest AND the trees. When you start your tour at Corner House, you'll get a unique glimpse into the bigger picture of Summers Corner – how we got to today, what's in progress now, and what's coming. At Corner House we can explain the value of being part of the East Edisto region or tell you about the new home plans launching this spring. Details big and small – get them here at Corner House.
Find out why. At Summers Corner, everything is done with intention. It's a place where every detail is carefully considered and well-crafted. And well-done. We want to share with you the why of Summers Corner. Why the Master Gardener's office is so important to our community, why we partnered with particular builders, why the road bends just so, why we built amenities before the very first home was complete, why a performing arts center is so important to our community…we could go on, but we'd rather you drop by!
An outstanding menu. Chef JA has perfected the art of crafting a fresh, seasonal menu. Plan your visit around lunch time to enjoy a sandwich or salad made from locally-sourced ingredients – some we harvest directly from our kitchen garden! Pair it with Counter Culture Coffee, craft beers by Freehouse Brewery, or all-natural soda from Cannonborough Beverage Company. Then treat your sweet tooth to Cirsea small-batch ice cream, King of Pops frozen confections or a homemade pastry or cookie.
We're open 7 days a week (Monday-Saturday from 7 am-6 pm, Sundays from 11 am-6 pm), so do drop in. We can't wait to tell you about or growing community.