Hello, spring! A look at our first Home & Garden Party
03.15.2016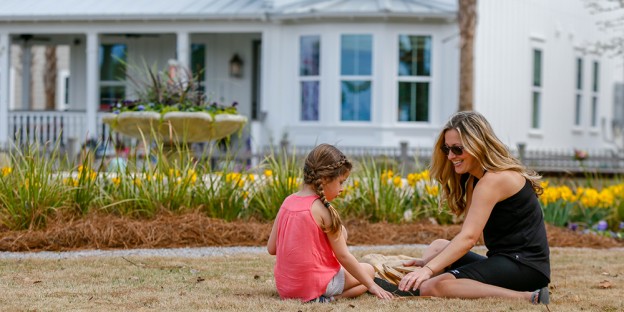 We strolled, we paddled, we swayed to the music ….all together with 800 wonderful neighbors and friends! Saturday's Home & Garden party at Summers Corner in Summerville, SC took an easy, early spring vibe as guests took in the community at their own pace (and that's just the way we like it) and enjoyed some fun in the sun.
Our community in a garden came into full bloom this weekend, too, and we were treated to pops of color at every turn. Some guests even took some home thanks to Stacks Nursery! They joined Green Heron Garden Tools and Must Bee Honey in Gardenwall Park for an all-things-spring sale. The Master Gardens were also on hand to answer any and all garden-related questions.
The Bushels and Minimum Wage provided the day's soundtrack and Roti Rolls and Short Grain provided the eats, while we cooled off with natural sodas from Cannonborough Beverage Company, iced-coffee from Counter Culture coffee, and cold beers from a local brewery.
Families enjoyed picnicking in Summers Park while the kids burned off that ever-present energy with kites and yard games. Some were feeling a little artsy and enjoyed painting with Wine & Design, or picked up some chalk and used the Summers Corner sidewalk as their canvases. For others, an outdoor yoga session was the ticket to kicking off spring!
The more adventurous of our guests headed to Buffalo Lake, where Nature Adventure Outfitters set out on hourly excursions via kayak.
Sand Hill Elementary principal Wally Baird enjoyed a meet-and-greet with future students. He shared sneak peeks into the inner-trimmings of the soon-to-open school and answered questions from eager parents.
Six beautiful model homes were also open, of course, and our builders enjoyed giving tours of eighteen under-construction homes. If you're hoping to get into a new home in Summerville, SC before school starts, be sure to check these out! You can visit any day of the week.
To all who came out to the Home & Garden party, a heartfelt thank you! Now don't be a stranger –  we hope you'll drop by for a cup of coffee from the Corner House next time you're in the neighborhood.