Take [a] Flight
February 25, 2017
3:00 pm - 5:00 pm

Buffalo Lake
1609 Beech Hill Road, Summerville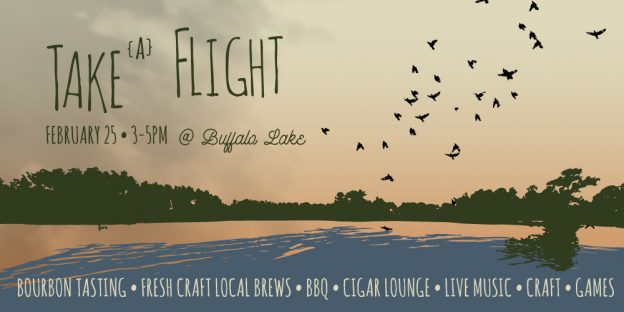 **SOLD OUT**
Spring is around the corner.
And we want to start celebrating early. It's that time of the year when birds (and snowbirds) are heading north to do their thing and when bourbon still plays the major role in our end of the day cocktail.
We are going to celebrate by throwing a nice little shin dig out at on Buffalo Lake. Chock full of bourbon tastings and bbq, a cigar lounge, live music by The Bushels, and socializing. And a special activity for the kiddos, so they'll be able to join in on the fun, too!
Here's what we have on deck: 
THE BOURBON
We're excited to have Adam Rothstein, Beverage Director for HomeTeam BBQ, join us to host the bourbon tasting.  Adam has worked in some of New York City's most celebrated cocktail bars and restaurants. After visiting Charleston in 2012, Adam fell in love with the thriving hospitality and culinary community, like so many of us do, and made the Lowcountry his home. Adam will introduce us to Bulleit 10 year, Larceny, Buffalo Trace Rye, and Templeton Rye.
THE FOOD
Delicious pork hot links paired with pimento cheese, crackers & serrano peppers, heavenly deviled eggs, hand pulled pork sliders, homemade BBQ chips, and a fresh veggie tray. All from one of our favorites- Jim N' Nicks! Local craft brews from Palmetto, Westbrook, and Coast will also be available.
THE FUN
An afternoon on Buffalo Lake is a treat in itself, but we want to make the day extra special. Knowledgeable and personable tobacconists from Southern Smoke Cigars will be on hand in the most charming mobile cigar lounge you've ever seen. Their carefully curated inventory includes a wide array of mild, medium, and full-bodied cigars.
The Bushels will provide the day's tunes. They are a little bit bluegrass, a little bit country rock, and a whole lot of fun.
The kiddos will be entertained with a little arts and craft area all-about-birds. They'll each take home what are sure to be masterpieces!
Join us for the afternoon!  RSVP today.