The Crucible, Flowertown Players
October 28, 2018
3:00 pm

October 19, 20, 25, 26, & 27 at 8pm and October 21 & 28 at 3pm
Historic James F. Dean Theatre, 133 S Main St Summerville, SC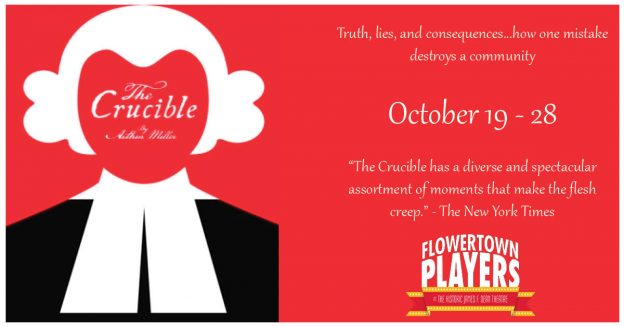 THE CRUCIBLE by Arthur Miller
Truth, lies, and consequences…how one mistake destroys a community
An essential American classic and Tony award-winning play, The Crucible by Arthur Miller, makes it's way to The Flowertown Players' stage this October. Set in 1692 in the Puritan colony of Massachusetts signs of witchcraft begin to surface and suspicion falls on Ms. Abigail Williams. Successful in her malevolent attempt to convince the court that she and her friends were merely dancing in the woods, she moves to sway suspicion off of herself and onto other villagers. Soon hysteria has bewitched the town of Salem as one after another the villagers are accused of witchcraft and sentenced to death. Havoc rains down on the Puritan town as Abigail's selfish behavior manipulates those around her to rule with fear and violence.
"The Crucible has a diverse and spectacular assortment of moments that make the flesh creep." – The New York Times
Produced in special arrangement with Dramatist Play Service
For more details and upcoming shows, click here.