Learn, Grow, Serve | Interview with Sand Hill Elementary School Principal, Wally Baird | Part 1
02.15.2017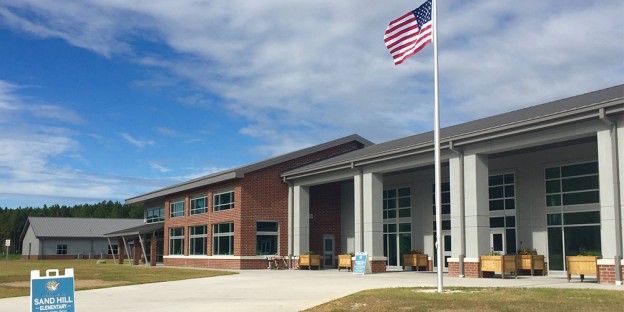 At Summers Corner, high-quality schools are non-negotiable. Our community is part of highly acclaimed Dorchester District Two- rated excellent for three consecutive years on the annual state report card. Children who live at Summers Corner will attend the new, state-of-the art Sand Hill Elementary School. At the helm is Principal Dr. Wally Baird.
We recently attended a school assembly and were able to see Principal Baird in action, literally – the whole school broke out into spontaneous, yet synchronized, song and dance more than once!
We were as enthralled as the kids by his leadership – confident, unwavering, and fun. 
We had to know more about Sand Hill's intrepid leader, so we recently caught up with him for a little Q&A. We'll be sharing what we've learned in a series of blog posts (it's that good).
So, without further ado, let's get to know Principal Wally Baird and Sand Hill Elementary.
Principal Baird's background
Principal Baird graduated from Summerville High and Charleston Southern University. He began his career in education at the Teacher for America program in Newark, New Jersey, and then returned to the Lowcountry to hone his craft at Spann Elementary and Rollings Middle School of the Arts.
After receiving his Master's in Education from The Citadel in 2011, Principal Baird wanted to make a broader impact on his school, leading him to assistant principal and principal roles. Ever-dedicated to education, Wally Baird received his Doctorate in Education Leadership degree from Nova Southwestern University in 2011.
Teaching philosophy
"My educational philosophy focuses on rigor, relevance, and relationships," Principal Baird shared. He went on to explain rigorous teaching challenges students' thinking and necessitates collaboration between teacher and student. Rigorous learning, meanwhile, requires the learner to be engaged in authentic work, take responsibility for higher-level thinking, and reflect on personal learning through projects, research and conversation.
For true learning to occur, teachers must also make the content relevant to the learner. "Relevant instruction fosters relevant learning supported by a collegial, creative, and team based approaches," he said.
Principal Baird believes the most critical component in learning is the relationship between the teacher and the learner. "Building relationships is a priority for the master teacher. Through positive relationships and experiences, students will reach their potential and maximize their effectiveness."
Learn, Grow, Serve
Learn, Grow, and Serve defines Sand Hill Elementary's instructional focus. "The school is dedicated to maintaining high expectations with rigor and relevance while supporting strong relationships among students, families, and school community. Our talented teachers utilize best practices and effective instructional techniques to prepare students for college and career readiness," Principal Baird said.
Stay tuned in the coming weeks for insight into how technology and nature play an important role at SHES. 
Sand Hill Elementary is just steps from our growing community. See our new homes here in Summerville, SC, many available for quick move-in. Six models are open daily.