Outdoors at Summers Corner: The Edisto River
07.13.2017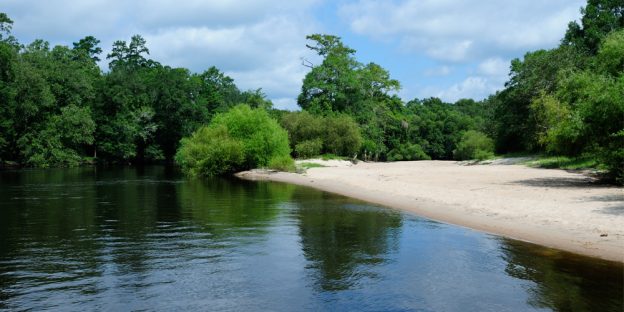 Among the Lowcountry's defining features are the numerous waterways, lakes and rivers that shape the landscape. Buffalo Lake, right here at Summers Corner, offers 94 freshwater acres for residents to catch a few bluegills, spend an easy morning paddling and admiring the wildlife, or simply enjoy some quiet time by the water's edge.  But our location also means other ways to get on the water are just out your front door – we covered our favorite ways to enjoy the Ashley River here, but would be remiss to leave out another spectacular neighbor: the Edisto River.
Located west of Summers Corner, the Edisto River is one of the longest free-flowing blackwater rivers in North America. Travelling 250 miles through our state, it's ideal for floating, kayaking, and fishing, even hiking the forests that line its shores. This summer, try one of the trips below and explore this blackwater jewel with friends and family.
Camp at Givhan's Ferry State Park
Located at the end of the Edisto River Canoe and Kayak Trail, Givhan's Ferry State Park is a natural retreat nestled in the beautiful Lowcountry forestland. Basic yet comfortable cabins are available for rent, as are shaded campgrounds if you prefer a more rustic experience. Nature trails and picnic shelters can be found across the park, as well as opportunities to learn about the history of the area – check out the limestone river bluff and read about the beginnings Civilian Conservation Corps. Don't miss Old Loop Trail, perfect for exploring various plant and animal habitats.
Enjoy an easy float with Edisto River Adventures
As many a Summers Corner resident can attest, this is a perfect way to spend a steamy Saturday in the Lowcountry! Edisto River Adventures' goal is to help you connect with nature on every level, getting away from the hustle and bustle of daily life to relax and take in the sights and sounds as nature intended. Enjoy a lazy float down the river in an intertube with your family or a big group of friends. Prefer a little more adventure? Ask about guided and self-guided kayaking trips. These folks have knowledge of over 100 miles of the Edisto River, and can customize single trips or a multi-day paddle and camping adventure.
Go fishin'
Put your boat or kayak in at Jellico Landing to enjoy a day catching largemouth bass, catfish, pickerel, redbreast sunfish, and black crappie on the Edisto River. The slow moving waters and an abundance of trees and natural debris make for excellent fish habitats. Shallow and deeper waters add variety to your day, and sandbars allow kayakers to pull up for a break and a chance to admire the flora and fauna along the banks. Many spots along the river are shady, but be sure to bring plenty of sunscreen and a hat for sunnier days!
Plan your own trip
Visit the new Edisto River Canoe and Kayak Trail website where you'll find a wealth of information to help you enjoy the Edisto River to the fullest. Helpful map and access sites make planning a trip easy. Activities and attractions are outlined, too, to get your family excited about their day or weekend on the water!
The natural landscape around Summers Corner is one of its greatest perks. This weekend, get out and enjoy the fabulous weather, spend some time on – or by – the water, and soak up all that the Lowcountry has to offer!
Join us at Summers Corner. See our new homes here in Summerville, SC, many available for quick move-in. Six models are open daily.