Pirates and Mermaids at Magnolia Plantation
January 25, 2020
11:00 am - 2:00 pm

Magnolia Plantation and Gardens
3550 Ashley River Road, Summerville SC 29414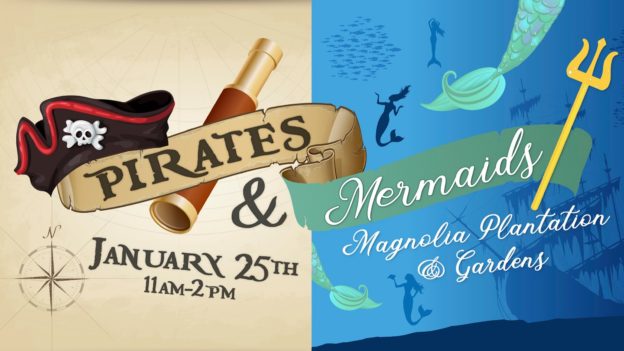 It's their second year of Pirates and Mermaids! Last year was such a hit they had to do it again this year, but even bigger!
Get out of the house this winter and bring your little pirates and Mermaids to Magnolia for the day. Whether you are a scalawag sailing the open sea, or swim gracefully below, you can enjoy a pirate led scavenger hunt, balloon twisting, face painting, treasure dig, hang out with Ariel, play on a Pirate Ship join the costume contest and more! Don't forget to come dressed up as your favorite pirate or mermaid!
The event is free with basic garden admission. Admission is $20 for adults, $10 for children 6 to 12 years old, and children 5 and under get in for free. All guests can receive a buy one get one admission with the donation of a canned food item for the Lowcountry Food Bank!
Entertainment Schedule
Pirate Led Scavenger Hunt: 11:00, 11:45, 12:30 and 1:15pm
Pirate Sword Dance Show and Demo with Lady Esabeua 12:00pm
Pirate Balloon Twisting: 11-3pm
Meet and Greet with Mermaids: 11-3pm
Meet Ariel: 11-3pm
Scaly Friends Live Interaction: 11-3pm
Face painting: 11-3pm