Operation Finally Home and Lennar Donate Home to a Hero
07.29.2021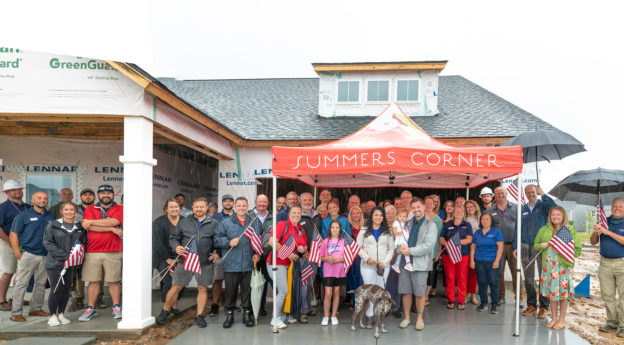 The rain couldn't dim our joy! On July 28, 2021, Operation FINALLY HOME, Lennar and many community members surprised U.S. Air Force Senior Airman Nathan Mikeska and his family with the news that they were receiving a new mortgage-free Lennar home at a homesite in Azalea Ridge.
Nathan and his wife Katherine had been told they were just going through the preliminary interview process with Operation FINALLY HOME and Lennar. After thinking the meeting location for the interview had been changed, they were driven to the new phase to 'look' around and meet the Lennar representative onsite. They were met by the Summerville Police Department who also surprised them with an escort to the homesite. In addition to the surprise of the home, the Mikeskas were able to read inspirational words of support and encouragement left on the studs of the unfinished home by the community that past Monday.
U.S. Air Force Senior Airman Nathan Mikeska grew up watching action movies like Rambo and Rocky, and hearing stories from family members who served in the United States military, and knew he wanted to pay homage to his heroes by enlisting in the Air Force.
Mikeska began his military service in 2003. During his four years serving in the Air Force, he deployed to Iraq three times and New Orleans following Hurricane Katrina.  While stationed in Camp Blanding, Florida, he was injured during a night training jump wearing with full combat gear when a sudden, strong gust of wind threw him towards the ground about 25 feet from the tarmac. The impact knocked the wind out of him, and he could hardly move. After receiving medical attention, Mikeska learned he suffered a back and shoulder injury that were so severe he was taken off flight status and unable to participate in any airborne operations or physical training for the rest of his enlistment.
In addition to his physical injuries, Mikeska also suffers from post-traumatic stress disorder (PTSD) from combat experiences, including an encounter with an improvised explosive device (IED) while deployed in Iraq.
For his bravery and service to U.S. Air Force, Mikeska received an Air Force Achievement Medal, Air Force Training Ribbon, National Defense Service Medal, Humanitarian Service Medal, Small Arms Expert Marksmanship Ribbon/Rifle and a Combat Readiness Medal, among other accolades.
Mikeska and his wife, Katherine, currently live in Savannah, Georgia, with their young daughter. As a family, the Mikeskas enjoy boating, going to the beach, taking walks on nature trails and hosting Barbeques. The family wanted to relocate closer to Charleston, South Carolina, for easier access to medical appointments, and we are thrilled to be able to welcome them as new members of the Summers Corner Community!