8th Annual Sweet Tea Festival
September 21, 2019
3:00 pm - 9:00 pm

Summerville Dream
218 S. Main Street, Summerville SC 29483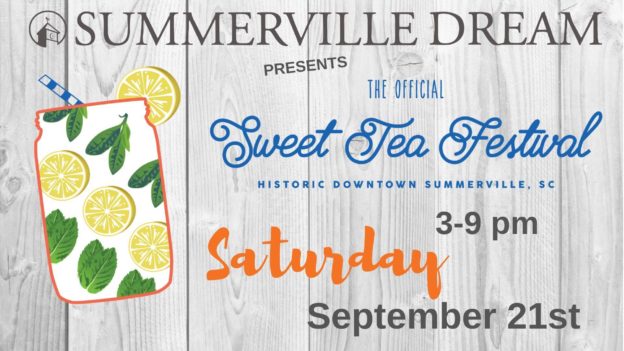 SATURDAY September 21st is the 8th Annual Sweet Tea Festival presented by Summerville Dream in downtown Summerville. What started as a small event held on the lawn of Hutchinson Square has blossomed over the last few years to an incredibly well-attended event. Plan to come join in the fun in downtown Summerville and enjoy live music in Hutchinson Square, on West Richardson and on Short Central.
They will be selling festival mugs so you can sample all the varieties of Sweet Tea! The Specified vendors will be the designated TEA STOPS.
Be sure to cast your vote in the tea tasting contest for the People's Choice for BEST Sweet Tea!
So…
1. BUY the MUG
2. TASTE all the Tea
3. VOTE for People Choice Best Sweet tea at the Visit Summerville Booth
VENDOR APPLICATIONS COMING SOON!
Would you like to be a Sweet Tea ambassador?
Mister & Miss Sweet Tea will be announced too! To participate go to http://www.millielewischarleston.com/sweet-tea-contest
Be sure to STOP and get your picture with our local "celebrity" MASON! The World's Largest Sweet Tea Mug!
Live music, crafters/makers, and more!
Stay tuned for updates as more cool stuff is added.
See their website: https://www.summervilledream.org/sweet-tea-festival.html for updates and mug information.
An online link will be posted as soon as it is available to pre-order your mug.
This is a family friendly event.
***They are pet lover ourselves but ask you to leave your furry, feathered or scaly friends at home due to the volume of people attending the event.***