Corner House Cafe, now brought to you by Coastal Coffee Roasters
08.14.2017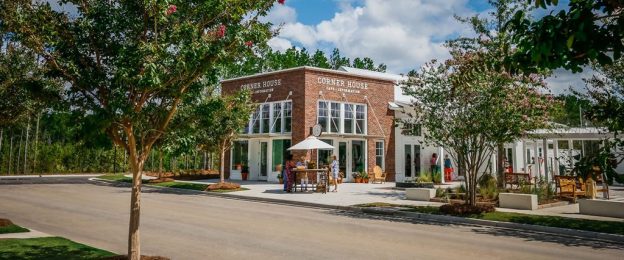 Community is at the core of everything we do at Summers Corner – from the community growing here in our new neighborhood to that of the greater Summerville area. Our commitment to strengthening our community can be seen in everything we do. It's why our landscape design includes plants native to the area. Why our architecture honors the region's historical precedents. And why we invite the region's very best growers and makers out to our monthly Farmers Market.  Indeed, at Summers Corner, we'd go so far as to say that here, "local" generally means "better."
Now, we're pleased to share another local favorite will be joining us at Corner House Café: Coastal Coffee Roasters. The new collaboration enhances our commitment to sourcing local products and ingredients, strengthening local merchants and craftsmen, and growing a strong community.
Corner House will remain a welcoming gathering space and home to our award-winning Summers Corner information center. Meanwhile, the folks from Coastal Coffee Roasters will be pouring locally-roasted coffee made with sustainably grown beans (try the nitrogen iced coffee for an extra boost!), craft beers and small vineyard wines. You'll also find the fresh, light lunches and baked goods Corner House has become known for.
The menu will remain unique to Summers Corner with choice items like the local tomato sandwich, the turkey and sweet pepper relish sandwich, as well as a few additions from Coastal Coffee Roasters' Summerville location. The staff sources local products whenever possible, including Cannonborough Soda, Cirsea Ice Cream, Fiddler's Honey, Hickory Farms, King of Pops, Lowcountry Creamery and more. See the menu here.
Café staff will continue incorporating ingredients from the community's kitchen garden, established and maintained as a demonstration garden by the Dorchester County Master Gardeners, based in the on-site Clemson Cooperative Extension office.
Hours are Monday-Saturday, 9 am – 6 pm and Sundays 12 pm – 6 pm. Expanded hours will begin on August 22: Monday – Wednesday 7 a.m. – 6 p.m. and Thursday – Saturday 7 a.m. – 9 p.m.
The coffee's on. Drop by!